Main content
New Year, New You - Learning Offers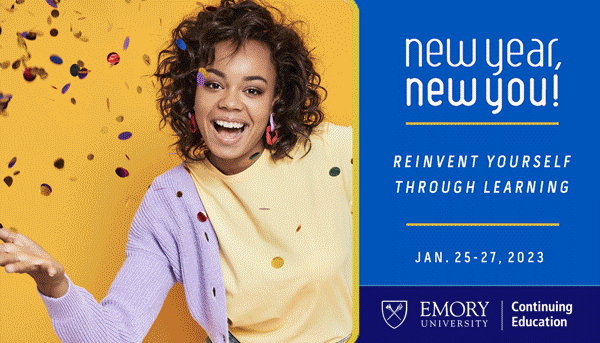 THE EVENT HAS ENDED
If you have questions about learning you purchased in this event, contact our team.
The job market continues to change, and Emory is ready to help you upskill in 2023. Our newest and refreshed certificates like Business Intelligence, Big Data & Applied Machine Learning, Digital Marketing, and Management impart high-demand skills that will help you stand out in today's job market.
Nearly the full ECE course catalog is 20% off during our "New Year, New You" event, now extended through Saturday, Jan. 28, 2023, midnight ET. Use the code NYNY23 at registration for 20% savings. Some programs have nearly filled to capacity as noted below, so act quickly to get the learning that is right for you.
Get started by browsing our certificates and courses at right or below.
TOP-ENROLLED CERTIFICATES OFFERED:
*Promotional pricing is not valid for: Financial Planning Certificate, Emory Coding Bootcamp, Emory Cybersecurity Bootcamp, Emory DevOps Bootcamp, Emory Product Management, Emory Data Analytics, offerings from Emory Corporate Learning, and OLLI at Emory learning.