Main content
Landscape Design Certificate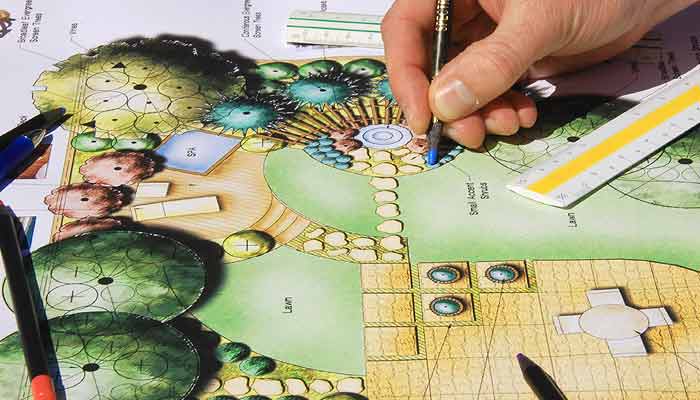 Become a landscape designer
Interested in creating beautiful landscapes that draw praise and envy from your neighbors? Knowledge is the first step. Our Landscape Design Certificate program provides both foundational and cutting-edge concepts as well as techniques for creating functional, crowd-pleasing landscape plans for any type of budget. 
Analyze existing residential landscapes, create a base map, and select the right plants and hardscapes to perfectly match the design. The instructor—an actively working landscape design professional—will share tips from over a decade of designing and installing award-winning landscapes to help build your expertise.
Audience
The following types of students will benefit from this program:
Serious gardeners seeking to grow their skills or entrepreneurs seeking to grow a new venture
Landscape architects that want to expand their knowledge of residential design
Those working in related fields like landscape maintenance, civil engineering, garden centers or landscape installation that want to offer residential design services to new and existing clients
Anyone considering a career change as a landscape designer
Program Objectives
After successfully completing this program, students will be able to:
"Read" an existing residential landscape and create a base map to guide the design
Create an artistic conceptual landscape design that addresses site conditions and homeowner needs
Articulate the science behind the artfully finished design in a final presentation
Choose appropriate hardscapes that match design intent
Know how to select adaptable plants to fit the design
Add color to make the plan "pop"
Certificate Requirements
The certificate consists of 26 hours of instruction, culminating in a Capstone project in which students produce their own landscape design.
To receive the certificate, students must:
Attend at least 80% of class sessions
Complete all 

assignments

Receive a passing score of 75% or higher on the Capstone project
Curriculum

Modules
Landscape Design I: Understanding the Site – Meeting 1 (8 hours)
Landscape Design II (Residential): Designing Winning Landscape Plans – Meetings 2-5 (8 hours)
Right Plant, Right Place: Succeeding with Plants – Meeting 6 (2 hours)
Sticks and Stones: Hardscapes Made Simple – Meeting 7 (2 hours)
Bringing the Master Plan to Life: Plan Graphics – Meeting 8 (2 hours)
Capstone – Meetings 9-11 (6 hours)
View All Upcoming Course Sessions
Payment

Deposit Option
The Landscape Design Certificate course is eligible for a deposit option. With this option, a student puts down $850 upon registration and pays the remaining balance seven (7) days prior to the course start date. If the student is registering with a discount, the discount will be reflected on the second payment. The down payment will still be $850.
If full payment is not received seven (7) days prior to the course start date, the student will be dropped from the course, removed from the roster and dropped from the Canvas site.
Payment Options
The easiest way to pay for courses with Emory Continuing Education is using any major credit card including Visa, MasterCard, American Express, or Discover.
Certificate overview
Duration
2-3 months
Cost
$1,695
Time commitment
26 hours