Main content
Women in Leadership: Driving Transformation Through Innovation and Resilience Certificate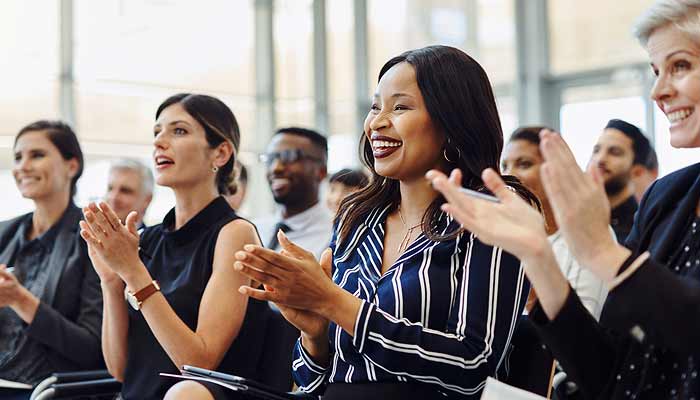 Learn to Drive Transformation and Prepare for Fulfilling Leadership Opportunities
The online Women in Leadership: Driving Transformation Through Innovation and Resilience certificate program from Emory Continuing Education (ECE) teaches women managers how to maximize their unique strengths to become stronger leaders. The five-week program includes five learning modules, each led by a female subject matter expert with expertise in the areas of innovation, cultural awareness, engagement, resilience, or self-advocacy.
This program is designed for current women managers who are ready to build the skill set needed to reach higher levels of leadership, including C-suite positions. The combination of live sessions and self-paced content gives women the flexibility to earn the certificate while balancing life's commitments, and empowering them to build presence and influence within their organizations.
OFFER EXTENDED - Use the code FALLFORWARD at registration for a 20% discount through September 30, 2023.
REG. $1950 – EVENT OFFER $1560
Program Badge
Feature your participation in the Emory Women in Leadership Certificate program with an official digital badge. These are issued at program completion and can be displayed in your online channels like Linkedin.
Audience
The certificate program is designed for women who work in management and aspire to:
Move into higher tiers of management and leadership
Learn best practices for developing a collaborative culture of innovation
Become more effective advocates for themselves and their teams
This program also is open to males who want to better understand the challenges women leaders face and provide support for their female colleagues.
Program Objectives
Upon your successful completion of the Women in Leadership certificate program, you will be able to:
Describe the importance of innovation and list instances of successful innovation inside and outside your organization.
Identify collaboration strategies in your organization, design ways to engage across silos, and formulate useful ideation strategies.
Define keys to the entrepreneurial mindset and apply methods for managing entrepreneurs.
Develop an initial plan to encourage risk while mitigating challenges.
Explore differences and similarities of cultures and how they impact communication, innovation, and team leadership, and develop a strategy of inclusiveness through an understanding of cultural impacts. 
Explore how to manage multiculturalism effectively to improve innovation.
Distinguish between resilient and non-resilient leaders, design a custom resiliency plan, and implement resiliency for innovation.
What You Will Learn
The Women in Leadership program is offered in five week-long modules. Five different women subject matter experts lead each module. 
Module 1: Growing a Culture of Innovation

Practice innovative strategies, learn best practices in innovation, reflect on your experiences and envision ideal cultures of innovation. Led by Kimberley Lyles Folkman, PhD, communication specialist, and expert in creativity and innovation.
Module 2: Innovating Across Culture

Increase your understanding of how culture impacts success in the marketplace and workplace, as well as its impact on the world. Led by Soumaya Khalifa, MBA, President and CEO of Khalifa Consulting.
Module 3: Driving Engagement

Learn best practice tools and techniques to increase you and your team's engagement. Led by Nancy Green, MBA, performance strategist and owner of iinteg Inc.
Module 4: Leading with Resilience

Learn the qualities, attributes, and skills that make resilient leaders, as well as their impact on teams, organizations, and culture. Led by Katie Karppala, MSOL, PCC, BCC, founder of Authentic Dimensions Consulting.
Module 5: Advocating for Yourself

Gain skills to effectively advocate for yourself including understanding the importance of identifying professional strengths, interests, and values. Learn how to self‐ownership over your vocational lives and future, and articulate your unique professional strengths, values, and vision. Led by Sarah D. Carlson, JD, career transformation and self-advocacy expert. 
"I'm super confident that I am, and I will continue to be the (servant) leader that I always wished I had. The Women in Leadership program has confirmed my vision, empowered my passion, and strengthened my confidence, (and my voice). I believe this program should be part of EVERY SINGLE onboarding and I mean from Fortune 500 corporations to tiny startups. The time is now!"
– Robin Ann Barnette, CLC, CA, E-RTY 500
Industry Expert Panel Discussion

Twice a year (March and September), current students and graduates of the Women in Leadership program are also invited to attend a two-hour live, virtual discussion with a panel of industry experts. Attending the panel discussion offers the following benefits:
Gain fresh perspectives and insights from women leaders representing a variety of industries
Engage with panelists who will share expertise to bring value to the conversation of women in leadership
Receive tips from industry practitioners who will bring together differing perspectives for creating solutions to roadblocks and barriers to success
Participate in a Q&A session which may provide valuable takeaways as future resources
Join in discussions that can help educate and inspire future initiatives and plans
Course Content Summary

Module 1: Growing a Culture of Innovation
What works in innovation cultures?
Developing a user-first focus
Collaborating across silos
Cultivating entrepreneurial mindsets
Managing for risk and fast failure
Module 2: Innovating Across Cultures
Importance of cultural intelligence
Cultural self-awareness
Innovation through diversity
Leading while female across cultures
Examples of women leaders driving innovations in different cultures
Module 3: Driving Engagement 
The power of engagement
Communicating priorities, goals, and expectations
Taking a strengths‐based approach
Planning next steps to improve you and your team's engagement
Module 4: Leading with Resiliency
Defining resiliency
What resiliency is not
Resiliency and leadership
Emotional intelligence and resiliency
Derailers from resiliency
Skills to increase resilience
Module 5: Advocating for Yourself
Self-belief
Self-awareness
Self-ownership
Self-articulation
Certificate Overview
Duration
5 weeks
Cost
$1,950
Time commitment
40 hours