Main content
Digital Marketing: Build and Launch Better Multichannel Campaigns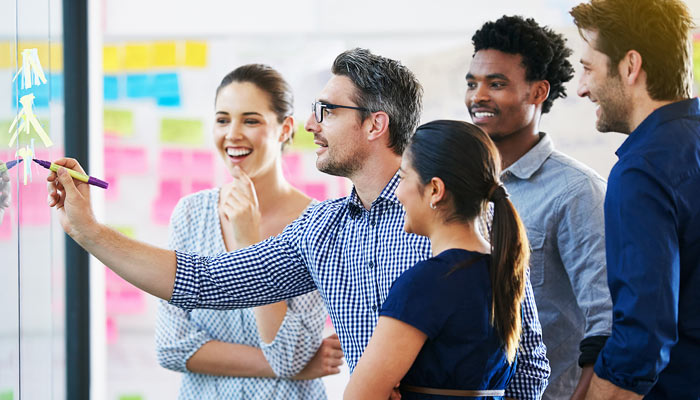 Dive into a digital marketing career in 3 months
Worldwide nearly 75% of all companies pour the majority of their marketing budget into digital (which will swell to three-quarters of a trillion dollars by 2026). Presently there are not enough candidates to fill all the digital marketing roles needed in the field, especially in major metropolitan areas. This is the time to dive-in.
In this intensive, fun, and flexible Digital Marketing Certificate, students will learn the essentials to prepare for an entry-level or advancing career in the field. Designed specifically to work with a student's schedule, interests, and career focus, this unique 3 month program combines live class sessions with an instructor and weekly self-paced lessons. By the end of the certificate, graduates can confidently focus on a digital marketing career path that works with their unique skillsets, talents, and direction. To pursue a potentially life-changing career change, graduates can promote their certificate and new-found knowledge, skills, and experience to potential employers or clients drawing on a marketing portfolio that will help make their case as a strong candidate.
Program Badge
Feature your skills through an official digital badge from Emory. These are issued at program completion and can be displayed in your online channels like Linkedin.
*sourced from Salary.com. **sourced from Conductor. ***sourced from the U.S. Bureau of Labor and Statistics.


LEARNING OUTCOMES
After successfully completing this certificate, students will be able to:
Describe digital marketing concepts, strategies, and career roles
Utilize storytelling as a success strategy in brand marketing
Write a marketing brief to manage a campaign
Use industry apps for project and content management
Write goals and KPIs (Key Performance Indicators)
Develop a UVP and BPS (Unique Value Proposition and Brand Positioning Statement)
Develop strategies for audience segmentation and market competitive analysis
Launch a multichannel marketing campaign using organic and paid plans
Utilize basic analytics for web and channel reporting
Create your marketing portfolio with associated case studies
Prepare for the OMCA™ (Online Marketing Certified Associate)
Certificate Highlights
Duration
3 Months
Cost
$2295
Time commitment
67 hours
CERTIFICATE REQUIREMENTS
To receive the certificate, students must:
Attend at least 80% of the live class sessions and complete approximately 5 hours of self-paced homework per week
Earn a passing score of 75% or higher in combined quizzes and capstone projects
Beyond the Digital Marketing Certificate:
This Digital Marketing Certificate is designed to provide graduates with a solid foundation for building and launching better multichannel campaigns. Beyond that are a set of more defined roles in the field with advanced skills in high demand.
Emory's Digital Marketing Program will shortly offer concentrations that build off the core certificate and provide graduates more advanced training in front-end and back-end digital marketing. This is designed for both expert and generalist practitioners aiming to improve their career paths even further. Concentrations will include courses such as:
Digital Marketing Transformation
Programmatic Marketing Automation
Using AI for Digital Marketing Strategy, and
Data-Driven Personalization
Stay tuned for more information on these and other exciting, innovative digital marketing concentrations. Click here to contact program advisor Marilia Perottoni to discuss your educational pathway.
Program Modules
Tuition includes the following modules and coursework:
Introduction to Digital Marketing
How Storytelling is Key to Branding
Building Blocks of Multichannel Campaigns
Inbound Marketing, Segmentation, and Customer Journeys
Seven Market Forces and the Competitive Analysis
Content Marketing for Organic and Paid
Always-on Marketing (Agile Marketing)
Reporting Blended Analytics: Web and Channel
Social Media Policy and Real-time Responses
The Capstone Project and Portfolio Development
Audience
The following types of people will benefit from this program:
Those with no, little, or some experience in digital marketing and want formal training in the field
Those who have traditional marketing, public relations, sales, or design experience but need to bump-up their digital strategy
Those who want to earn industry certifications, develop their portfolio, or gain skills to become more valued by employers and attractive to prospective clients to advance their career