Main content
Interior Decorating & Home Staging Certificate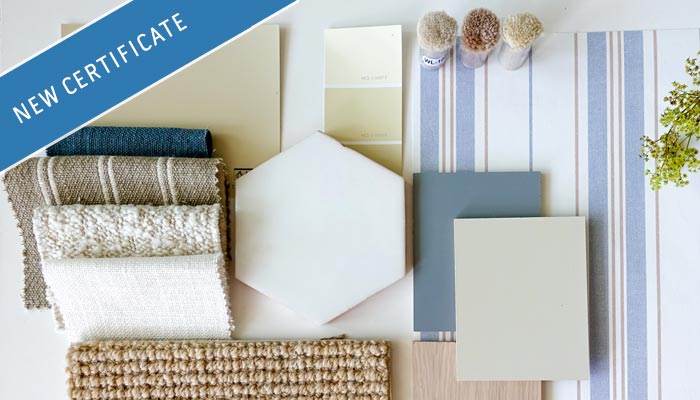 Decorate with style in just 3 months!
Learn interior decorating principles, including identification of style components, selection and placement of furniture, lighting, and accessories. Explore the latest design trends and how to use them to create spaces that inspire. Delve into color theory and the physiological effects of color on relaxing and productive environments. Study the techniques of illusion design which include the art of masking architectural flaws including off center doors and windows and creating spaciousness.
Whether you're looking to create beautiful and functional spaces to enjoy in your home, desire to increase your knowledge of interior decorating, or need help showcasing a home for sale, this class will teach you the tips and techniques to create beautiful interiors.
Program Badge
Feature your skills through an official digital badge from Emory. These are issued at program completion and can be displayed in your online channels like Linkedin.
Learning Outcomes
After successfully completing this certificate program, students will be able to:
Explain the process of beginning a design project 
Identify foundational styles using their characteristics
Recognize the elements of good design when accessorizing shelves, mantles, etc.
Create a tangible design presentation board & a digital design board
Identify the psychological connotations of color
List illusion design techniques
Apply knowledge of fabric properties and performance for upholstery and window treatments
Discriminate the quality of case goods and upholstered furniture
Define Green Design
Describe many of the numerous design careers
Meet Your Instructor: Lee Anne Culpepper
For over 30 years, Lee Anne Culpepper has created dynamic and comfortable environments for a diverse clientele including home owners, boat and yacht owners, diplomats, corporate executives, doctors and entrepreneurs. She has taken on challenging assignments in country club homes, beach homes, medical offices, investment properties, corporate offices, and national retail/restaurants and companies. She has an unique expertise in decorating upscale homes.
As TV Co-Host Designer on "Meet the Best Of," and as the Radio Host of "Design Tips with Lee Anne," she has won local and national acclaim and shares her knowledge and humor at speaking engagements all across the southeast. Her work and articles have been featured in newspaper and magazine publications. One of Lee Anne's greatest passions for the last decade is to share her knowledge with students at Emory where she instructs design classes.
In her spare time, Lee Anne enjoys spending time with her family and friends. She has a great zeal for travel and is an avid reader. Lee Anne not only has many creative hobbies, she also enjoys a good outdoor adventure. Lee Anne is married to Greg Culpepper and has three children, FIVE grandchildren, three horses and two dogs.
Certificate Highlights
Duration
14 weeks
Cost
$1295
Time commitment
28 hours
Next Program Start
Oct 23, 2023
CERTIFICATE REQUIREMENTS
To receive the certificate, students must:
Attend at least 80% of the class sessions
Complete the final capstone project with a passing score of 75% or higher
FREQUENTLY ASKED QUESTIONS
Interior designers are required to have formal training in all areas of design. Many states require that they pass an exam and become licensed. Designers work with architects and contractors to create functional spaces, even when that requires that structural changes be made to a building.
Interior decorators focus on the aesthetics of a room or space. They embellish the space by using different elements such as fabric or furniture to create a pleasing atmosphere. They work with industry professionals such as those who make rugs and furniture or upholstery. Decorators may not change the physical structure of a room or be involved in any type of construction or renovation of buildings. Decorators are not required to be licensed but often attend training such as ECE's certificate program.
Yes, we would love for you to continue learning about decorating by registering for the certificate! There is some overlap between the certificate and prior decorating classes taught at ECE. Before registering, please contact the program advisor, Marilia Perottoni, so that she may review what you have already studied and make certain the certificate is right for you.
Program Modules
Tuition includes the following modules and coursework: 
How to Begin a Design Project
Introduction to Foundational Design Styles
Accessorizing
Combining Fabric Patterns
Home Staging
Color Theory
Illusion Design
Fabric and Design Trends
Furniture
Interior Design Careers
Green Design
Design Board Capstone Project
Audience
The following types of people will benefit from this program:
Students exploring a career shift to interior decorating
Realtors or homeowners wanting to stage a home to showcase its best qualities to potential buyers
Anyone wanting to create eye-catching, functional rooms and spaces