Main content
Graphic Design & Visual Communications Certificate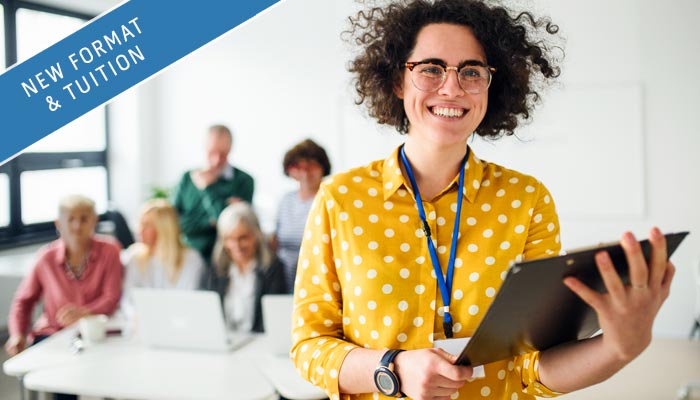 Create your path to a graphic design career in just 3 months
In the world of print—and increasingly digital—design, good looks are everything. Fortunately, creating professional content for your clients, employer or even yourself is made easier by understanding the fundamental concepts provided in our unique and streamlined Graphic Design Certificate.
In our fully online program, we will cover the identification of multiple principles and elements within good design—color theory, composition, typography and more—while demonstrating how artistic decisions can create cohesive, expressive branding through the use of templates and style guides. We'll also work within various Adobe Creative Suite software programs to explore effective visual communication strategies and best practices. Throughout the program, you'll complete multiple assignments designed to help you starting building a portfolio of your work and a personal brand to demonstrate your skills to prospective clients or employers.
Included in tuition, students will receive access to 20+ Adobe Creative Cloud apps and 15 Adobe Stock images per month for the duration of the program. Students are responsible for purchasing three textbooks, linked below. We recommend ordering the Book + Web Edition or eBook option, based on your preference for a physical or digital copy.
Program Badge
Feature your skills in Graphic Design through an official digital badge from Emory. These are issued at program completion and can be displayed in your online channels like Linkedin.
Required Textbooks
Learning Outcomes
After successfully completing this program, students will be able to:
Describe the differences between raster and vector graphics, as well as identify when to use each type
Justify design decisions using their knowledge of color, composition, typography, and information hierarchy
Conceptualize and create clear visual solutions for complex communication problems in both print and digital media
Address real-world design challenges that accommodate multiple revisions and stakeholders
Critique, edit and refine their own and others' work at a professional level
Certificate Requirements
To receive the certificate, students must:
Attend at least 80% of live class sessions
Complete all assignments with a grade of 75% or higher
Certificate overview
Duration
3 months
Cost
$2,495
Time commitment
39 hours
Program Modules
Tuition includes the following modules and coursework:
Visual Communication
The Artist – The Role and Duties of a Graphic Designer
Road Mapping – The Creative Process
The Power and Effects of Branding
Delivery – Digital vs. Print
Future Tech – Staying Ahead
Critical Skills for Graphic Designers Using Adobe Photoshop, Illustrator, and InDesign
Audience
The following types of students will benefit from this program:
Anyone wishing to learn more about graphic design and the technology it uses
Those who want to strengthen or refine their visual communication skills
Marketing professionals who want to better understand the creative side of their industry