Main content
Graphic Design Certificate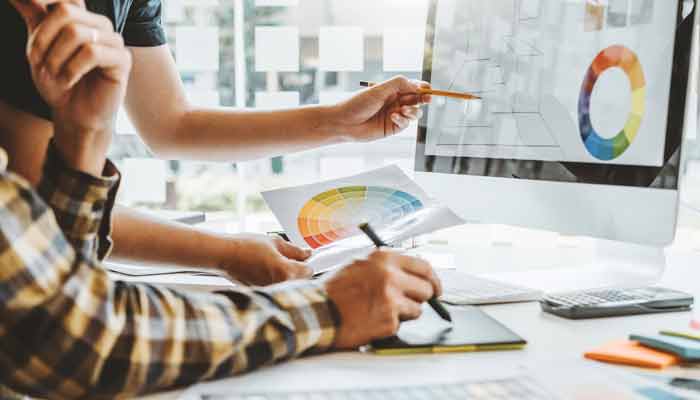 Master the skills and tools of professional graphic design
In the world of print and digital design, good looks are everything. Fortunately, creating professional content for either your clients or your employer is made easier by understanding the fundamental concepts provided in our unique Graphic Design courses.
Five certificate courses and 65 total hours of instruction will cover the identification of multiple principles and elements within good design—color theory, composition, typography and more—while demonstrating how artistic decisions can create cohesive, expressive branding through the use of templates and style guides. We'll also work within various Adobe Creative Suite software programs to explore effective visual communication strategies and best practices.
Audience
The following types of students will benefit from this program:
Anyone wishing to learn more about graphic design and the technology it uses
Those who want to strengthen or refine their visual communication skills
Marketing professionals who want to better understand the creative side of their industry 
Program objectives
After successfully completing this program, students will be able to:
Describe the differences between raster and vector graphics, as well as identify when to use each type
Justify design decisions using their knowledge of color, composition, typography, and information hierarchy
Conceptualize and create clear visual solutions for complex communication problems in both print and digital media
Address real-world design challenges that accommodate multiple revisions and stakeholders
Critique, edit and refine their own and others' work at a professional level
Certificate Requirements
To receive the Fundamentals of Graphic Design certificate, students must:
Complete all five (5) of the required courses listed above
Attend at least 80% of the class sessions in each course
Pass exams after each course with a score of 75% or higher
Satisfy all program requirements within 18 months
All Fundamentals courses are also offered open enrollment, meaning anyone can register for them regardless of affiliation with Emory or desire to complete the certificate program.
Technology Requirements
We are not able to provide Adobe Creative Cloud access to students completing this program or any of its courses in an online format. Students wishing to participate in this program must be comfortable using and navigating computers. 
Certificate overview
Duration
3-6 months
Cost
$3,475
Time commitment
65 hours