Main content
Foundations of Graphic Design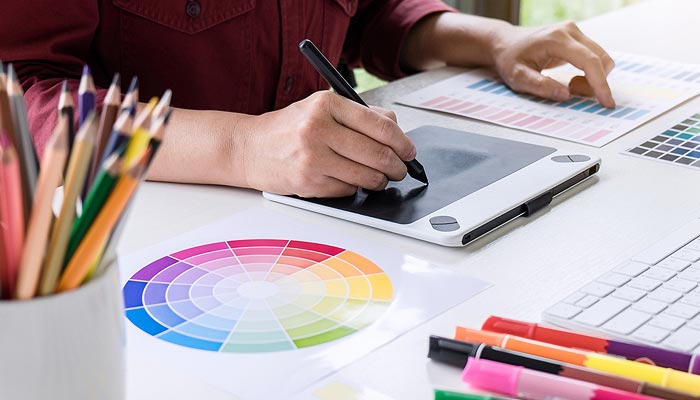 An introduction to the graphic design profession
 In the world of graphic design, good looks are everything ... and so many websites, posters, greeting cards and more need your help ASAP. Fortunately, creating professional content—whether for your job, church, family, or yourself—is made easier by understanding the fundamental concepts of graphic design.
This course identifies multiple visual communications principles and elements within good design, including: color theory, composition, typography and more. We'll also demonstrate how these artistic decisions can create cohesive, expressive branding through the use of templates and style guides.
Come explore the graphic designer's role - as well as techniques for creative thinking and problem solving—as we study and discover effective visual communication strategies. Class discussions regarding variances between new digital media and traditional print design will also help budding designers eliminate anxieties about the unknown.
Through a series of lectures and project-based homework assignments, this course will demystify the graphic design profession for students who are:
new to working in design roles;
considering switching to a design career;
self-taught and struggle to find fundamental solutions; or
seasoned designers needing a refresher and introduction to emerging tools, techniques, and technologies.
ECE recommends completing this course as the first in the Fundamentals of Graphic Design Certificate, but it can be taken at any time during the program. Students will complete three assignments related to visual communication principles, creative briefs, and brand design. Experience with Adobe software is welcomed but not required for success.
Course Outline
Lesson 1. Visual Communication

The eye and the brain - how visual communication works
Color theory - usage, perception, and emotion
Color modes - print vs. digital
File types - raster vs. vector
Typography - fonts and font types

Layout design - information hierarchy and composition

Lesson 2. The Artist

The role and duties of a graphic designer
Expertise - skills to master
Software - Adobe Creative Cloud

Hardware - equipment needed to complete the job

Lesson 3. Road mapping - The Creative Brief

Brainstorming
Research and development
Considering cost (project budget)
The creative process
Deadlines and time management

From concept to reality

Lesson 4. The Power and Effects of Branding

Story, identity, audience, tone/voice, and positioning
Style guides and rules for using a brand

Creating and using templates

Lesson 5. Asset Management - Order vs Chaos



Using Adobe Bridge - organizing assets and resources

Designing for revisions

Lesson 6. Delivery - Digital vs Print

Printing - choosing method and paper
Digital - choosing platform (social, internal, email, website)
Packaging files - considerations for file types

The PDF

Lesson 7. Future Tech - Staying Ahead

Motion graphics vs. static graphics
Resources (pros, cons, cost, and other considerations)
Continuing education
Learner Outcomes
After this class, you will be able to:
Discuss the role of color, composition, and typography in visual communication
Explain the various roles and duties of a graphic design professional
Develop a roadmap to guide design projects from conception to completion
Choose the right hardware, software, and file types for each project
Make informed decisions about their projected career path
Course Schedule
| | | | |
| --- | --- | --- | --- |
| Type | Date | Time | Location |
| TBA | TBA | TBA |    TBA |
Foundations Section Information
Contact Hours
13 hours
Course Fee(s)
Tuition non-credit - $695.00
Instructor(s)