Main content
Women in Leadership Student Spotlight: Lisa Mangel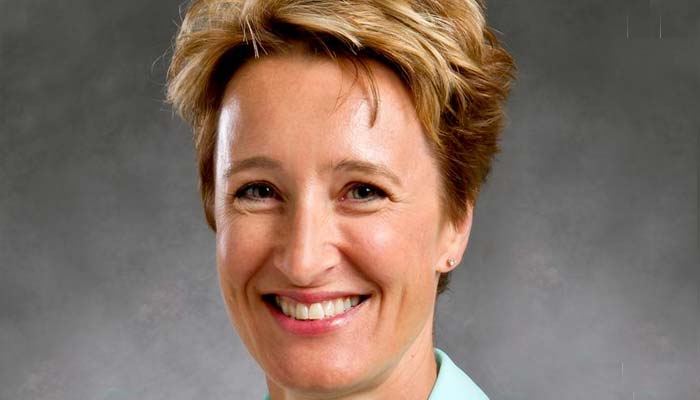 Lisa Mangel didn't always think of herself as a leader. She's a technical professional at heart, having earned her bachelor's and master's degrees in engineering at the University of Cambridge.
But after earning a credential from Emory Continuing Education's Women in Leadership program, Mangel realized her value as a leader and credits the program for helping her prepare for an executive-level leadership role.
"My most valuable takeaway was that I can be – and am – a great leader: I have the tools, the experience and the commitment."
"I listed this certificate as one of my pertinent qualifications for taking on the executive leadership role I interviewed for – I believe that carried some weight, if not as much as the Engineering Leadership program I had completed some years before. It showed I am committed to continuous learning and to being the best leader I can be," she says.
A global perspective
Early in her career, Mangel pursued roles in product creation and development. She worked for original equipment manufacturers (OEMs) in the United Kingdom at Jaguar Land Rover, formerly Jaguar Cars. She moved to Japan and worked as a solution architect for Tata Technologies, and later relocated to the United States where she worked on product creation architecture for Ford Motor Company.
Mangel always thought of herself as moving along a technical trajectory. She'd worked hard to carve out a place for herself in this competitive industry. But when she joined the Boeing Company, she quickly showed leadership potential her executives couldn't ignore.
Stepping into leadership
Mangel began her work with Boeing as a process architect in 2010. Within a short time in the role, she demonstrated skill in leading integrated teams to solve complex problems. 
Subsequently, the senior leadership team at the company approached her about a management position. She had been on a technical fellowship track and wasn't sure about switching to a more conventional management pathway, but she decided to take the leap.
Since then, she's moved through multiple management roles. She's headed teams that develop the system architecture for Boeing Commercial Airlines. She's overseen the engineering of cargo freighter planes, facilitating a global production system. Mangel's diverse team includes technically minded system integrators and members of Boeing's business and information technology organizations.
She's a Scaled Agile professional several times over and holds several Salesforce certifications. Her management skills help her oversee and advance business strategies, while her technical knowledge lets her navigate scientifically complex issues comfortably.
When she came across a link to the Women in Leadership program, she saw it as the perfect fit for her aspirations.
A leadership "tune-up"
Mangel learned about the Women in Leadership: Driving Transformation Through Innovation and Resilience program on Boeing's "Women Empowered" online forum.
"It seemed like a wonderful opportunity for a leadership tune-up," she says. "A way to broaden my horizons through interacting with people from other domains and backgrounds, and a demonstration of my commitment to personal growth."
At the time, Mangel was looking for a way to develop her influence and expand her role. 
"I was keen to continuously improve my leadership skills and confidence," she explains. "And being ready to take the next step in my career, I wanted to send a signal to my leaders that I was ready to take on an executive role and willing to put in the work to demonstrate that commitment."
Skills to advance in her industry
The Women in Leadership program was a natural fit. It's designed for women managers who aspire to move into higher levels of leadership, including C-suite roles. The program teaches leaders the skills to develop collaborative and innovative workplace cultures that drive positive transformation.
Students can emerge from the program empowered to innovate in their organizations. They are taught to develop an entrepreneurial and executive mindset and how to nurture those skills in others. By maximizing their own strengths and learning to recognize potential in co-workers, they can become collaborative and innovative leaders.
The six-week program is focused yet flexible, allowing students to learn new skills while working in their current roles. They receive insight from successful women leaders from various industries and backgrounds. Innovation, cultural awareness, engagement, resiliency, and self-advocacy are major focus points of the program.
Each module explores a different aspect of leadership in a global world:
Module 1: Growing a Culture of Innovation with innovation expert and public speaker Quinn O'Briant, MFA, MLA
Module 2: Innovating Across Culture with Khalifa Consulting President and CEO Soumaya Khalifa
Module 3: Driving Engagement with performance strategist Nancy Green, MBA
Module 4: Leading with Resilience with Authentic Dimensions Consulting founder Katie Karppala, MSOL, PCC, BCC
Module 5: Advocating for Yourself with career transformation expert Sarah D. Carlson, JD
Module 6: Panel Discussion with industry experts
As someone who joined the program to prepare for a career move, Mangel feels she gained the most from the self-advocacy module and her instructor, Sarah Carlson.
"[Carlson's] videos were very interesting and her style engaging — and the self-assessments and assignments helped me think through what I'm good at, what I want, and how to ask for it," she recalls. "During that module, I updated my resume, applied for an executive role elsewhere in the company, and was ultimately offered the job!"
Building community and mutual support 
Mangel also enjoyed the cohort element of the program.
"We built relationships over the six weeks, and it was a fun and rewarding experience," she says. "I enjoyed getting to hear and learn from women outside of my industry and technical area, with different circumstances and backgrounds."
Mangel praised the program's instruction as engaging, the exercises as meaningful, and the lecturers as knowledgeable and approachable. She enjoyed the experience and continues to apply what she learned.
"I found the class to be extremely rewarding; not only in the material that I learned but also in the way it made me think and reflect on my own style and capabilities," she remarks. "My certificate in Women in Leadership has been a significant factor in helping me to build and model a culture in which teams can thrive."
As one of the first students to complete the program, Mangel praised the practicality of the material.
"My expectations were exceeded. I was able to learn, internalize, and — most importantly — put into practice a lot of powerful concepts. I can already see and feel the benefits and team members have also noticed and provided positive feedback."
Supporting and empowering other women leaders
Mangel recommends the program to women looking to build confidence in their leadership skills. 
"The skills we learn in this program are significant, but also the knowledge that we have those skills and can own them is very important."
She urges women to take advantage of these opportunities but not to forget their success is in their own hands.
"You get out of the program as much as you put in," she emphasizes. "I took the time and did the work, including all the self-reflections and action plans that sometimes get short shrift when time is limited and energy is low."
The result has been a renewed confidence in herself and a commitment to her career.
"I've learned that I am already a great leader and that there are endless opportunities to keep on learning and growing, to stay curious, and always look for new perspectives and new approaches."


Learn more about the Emory Women in Leadership: Driving Transformation Through Innovation and Resilience program.
Emory Continuing Education is a division of Emory Academic Innovation.