Main content
The Power of Women in Entrepreneurship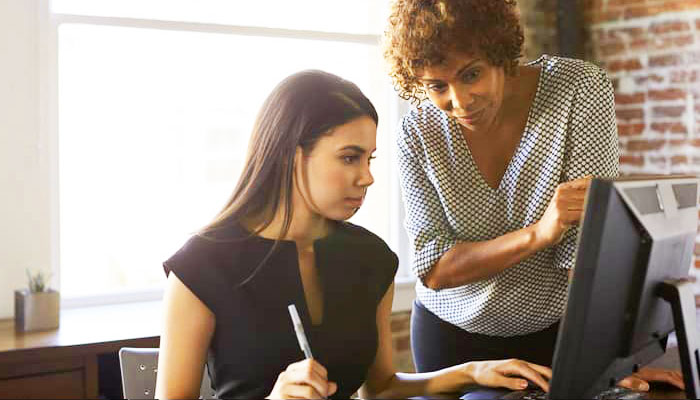 Women with an interest in business have a long list of influential women entrepreneurs they can look to for inspiration. They range from those who attained celebrity status to lesser-known professionals who established successful small and large businesses across the country.

One source of unwavering support for women has been their own investment in their education. Earning credentials that provide important business leadership skills can help enable women to better prepare for business success, including expertise in entrepreneurship. Women can learn how to not only motivate themselves, but also engage and inspire others.

What Is Entrepreneurship?

Entrepreneurship refers to those who start a business from the ground up. Those who succeed are often referred to as "self-made," because they created a product or service, built a business to provide it, and attracted a loyal customer base. 

Becoming an entrepreneur involves taking calculated risks, organizing and allocating resources, and assuming responsibility for outcomes. Successful entrepreneurs have a strong drive and a willingness to challenge the status quo through innovative thinking.

Famous women entrepreneurs include Oprah Winfrey, an iconic media mogul who founded Harpo Productions and the Oprah Winfrey Network. Her media business now includes television shows, magazines, and a book club. Another example is Sara Blakely, who founded Spanx, the Atlanta-based apparel company that produces leggings and pants (initially for women, but now for both women and men).

In both of their cases - as well as with countless other women entrepreneurs - certain key attributes contributed to their success.

Key Areas for Influential Women Entrepreneurs

In the Women in Leadership: Driving Transformation Through Innovation and Resilience certificate program through Emory Continuing Education, students focus on five key areas in leadership: self-advocacy, resiliency, driving engagement, innovation, and innovating across cultures.

Many successful women entrepreneurs exhibit these skills. The following lists some female entrepreneurs who represent the potential of each of these important areas.

Self-Advocacy

Whitney Wolfe Herd, founder and CEO of Austin-based online dating site Bumble, exemplifies self-advocacy in the tech industry. After experiencing sexism and discrimination in her previous workplace, Herd started her own dating app with a unique approach that prioritizes women's safety and empowerment. Herd's commitment to her vision and dedication to creating a platform that respects and values women's voices has made Bumble a global success. She continues to advocate for gender equality in entrepreneurship. In 2021, she became the world's youngest self-made woman billionaire.

Resiliency

While she is well known, perhaps no woman entrepreneur provides a better example of resiliency quite like Oprah Winfrey. She was born in the small town of Kosciusko, Mississippi, in 1954 to an unmarried single mother who worked as a maid. Raised in rural poverty, she often wore potato sacks for dresses. Her life took a turn when she became an honors student, and she eventually started a talk show on local television in Chicago that became nationally syndicated. She is now one of the richest self-made women in the United States, worth an estimated $2.5 billion.

Driving Engagement

Angie Hicks, co-founder of Indianapolis-based Angie's List (now called Angi), provides an excellent example of a women leader who excels at driving engagement. Her online platform forever changed how customers interact with service providers, creating a space where people can share reviews, exchange feedback, and rate their experiences with providers. Another example in this area is Emily Weiss, founder and CEO of New York-based Glossier, an online beauty products site. Glossier engages with customers via social media and its direct-to-consumer model, seeking their feedback and involving them in the brand's decision-making process. 
Innovation

Many women have contributed to innovations in technology, including Grace Hopper, Mary Wilkes, and Annie Easley. But Reshma Saujani is committed to innovating how the tech industry views women. A successful attorney, she founded Girls Who Code in reaction to the gender disparity in the field. This nonprofit seeks to building the "world's biggest pipeline of future female engineers." Saujani focuses on empowering girls to pursue careers in technology and advocates for inclusive policies and equal opportunities. Her work has had a profound impact on girls and young women worldwide.

Innovating Across Cultures

Cultural awareness is key to success in modern organizations. Felicia Hatcher exemplifies the idea of innovation across cultures. She is CEO of Pharrell William's Black Ambition Opportunity Fund, author of the book Genius Jam and co-founder of the Miami-based Center for Black Innovation. Hatcher focuses on empowering individuals from diverse backgrounds and promoting economic opportunities. Her work highlights the importance of cultural inclusivity, as well as the positive impact it has on entrepreneurship and innovation.

Food writer and YouTube personality Priya Krishna provides an example of innovation across cultures in a completely different industry. Krishna works as a writer, including regular contributions to The New York Times, and is also the author of the cookbook, "Indian-ish." She is known for celebrating diverse food cultures and exploring the intersection of food and identity. Krishna's writing and recipe development reflect her deep understanding and respect for different culinary traditions.

Cultivate Your Entrepreneurial Mindset With Emory Continuing Education

As this new generation of women create their own unique entrepreneurial paths, they also provide examples that can resonate with women entrepreneurs just starting on their journey, as well as working professionals in every industry. Emory's Women in Leadership program can help aspiring leaders define the keys to developing an entrepreneurial mindset, as well as help current managers apply methods for leading entrepreneurial employees effectively.

Learn more the Emory Women in Leadership program