Main content
Meet Meryl Hathaway: Hollywood actress and Emory Health Coach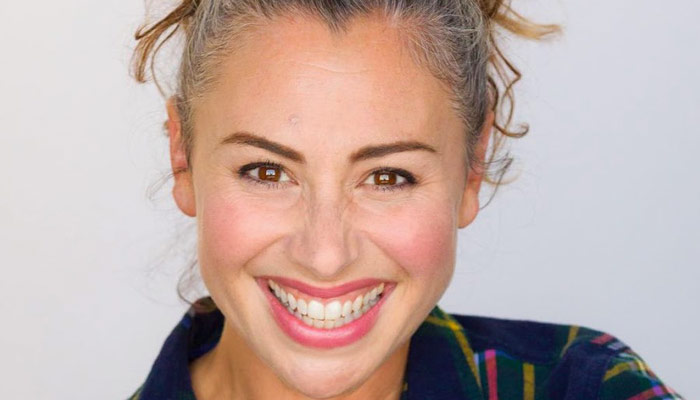 Meryl Hathaway already has substantial acting credits on her resume, from a recurring role in The Good Place to an ongoing part in Grey's Anatomy. When Covid came, she saw an opportunity to expand her repertoire.

"With the pandemic, work as an actress was completely gone. No one was filming anything. When a lot of other people's jobs went remote, my job just evaporated," she said. "That was a really scary time."

Undaunted, Hathaway seized on the moment as a chance to grow. In May 2021 she graduated from Emory's Health and Wellness Coaching certificate program, opening a new professional chapter.

It was a smart move: The U.S. Bureau of Labor Statistics sees demand for community health workers rising 17 percent in the coming years.

Why health coaching? "I'm someone who tries to take good care of myself, and I personally have dealt with a number of different physical ailments, including multiple surgeries," Hathaway said. "And I've always wanted to see what I could do to better myself, and to have more of a greater perspective on my own wellness."

Then, in the midst of the pandemic, a friend turned her on to the potential of a health coaching certificate. "She said to me: You have a passion for mental and physical health. You feel like you want to do more? There are ways of doing that," Hathaway recalled.

Emory Continuing Education's certificate program takes a deep dive, preparing students to help others improve their health and wellbeing through a combination of live online and self-paced classes, along with weekly coaching practice sessions and a mentored coaching practicum.

The Emory course gave her, first, a needed grounding in clinical issues. "You need to know some basic things when you are dealing with a diabetes diagnosis, for example. You need to know what cholesterol is, what different chronic conditions there are and ways to prevent them," she said.

In addition to the clinical information, the coursework helped Hathaway to get her hands around the human dimension of health coaching. "There is the whole psychology behind coaching, understanding the human psyche and why it is so hard for people to make changes in their behavior," she said.

How does it work, in practice? As Hathaway describes it, it's not her job to change you. Rather, her role is to help you change you.

"People can alter their own behavior. But in order to do that, it helps to have active, ongoing support from a coach," she said. "Having active accountability from a coach, having that encouragement, is a way of helping someone find that efficacy within themselves — knowing that they can actually make these small, attainable wins along the way towards a larger goal. That's how it is done."

The job is a perfect fit for Hathaway's personality. "I love working one-on-one with people, and I have a really natural way of connecting," she said. "Being an actress for as long as I have, I have sense of empathy, especially toward people who are going through something difficult. I personally have had four major surgeries, so I am very aware of how scary it can be to feel like you're not in control of your body."

She put that skill to work right away: After graduating the certificate program she was hired on by Emory as a teaching assistant. "I enjoy being able to help students as they dedicate their efforts to developing these skills. And I love just being able to give back," she said.

Hathaway has since gone even further, going on to pass the exam to become a National Board Certified Health and Wellness Coach.

"Being nationally board certified takes it to a different level. It proves that I really do have a deep education within the field," she said. "Anyone can go on social media and say: 'I am a life coach.' This shows that I have studied and that I know the science behind all of these things."

In addition to her acting, Hathaway now operates out of Los Angeles under the business name Lemon Grove Wellness. Thanks to virtual connections, she is able to offer health coaching to anyone, anywhere. She also hosts a podcast "The Lemon Grove Podcast" which she uses to explore themes of wellness and personal growth. Hathaway's podcast is linked from her website and streamed across most podcasting platforms.

Going forward, she said she hopes to continue pursuing both her professional passions.

As a coach, "I get to impart that on my clients, and to friends and family. And I really hope to continue performing, both as an actress and as a part of the podcasting entertainment community," she said. Long term goal? "At some point, I would be really interested in being an instructor with Emory. As a former student and a teaching assistant, I think that's a real possibility."

Learn more about the Emory Health and Wellness Coaching Certificate.
 
Emory Continuing Education is a division of Emory Academic Innovation.