Main content
How Emory's Women in Leadership Program Amplifies Leadership Skills Development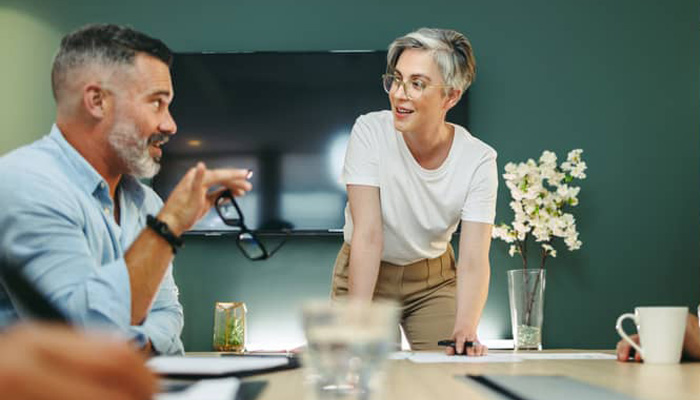 Women bring a diverse perspective to leadership. Their unique experiences and viewpoints provide a fresh outlook on problem-solving and decision-making, often leading to innovative and inclusive solutions. Studies have shown that placing women in leadership roles increases productivity and collaboration, fosters consensus-building, and improves fairness.

Creating those results requires women to develop the skills necessary for success. Complementing these skills by enrolling in a Women in Leadership program can help pave the way for professionals to grow their career potential.

The Opportunity for Women in Leadership
Female leaders have slowly closed the gender gap in the workplace, but they still face more scrutiny than men when it comes to management roles. That hasn't stopped women from increasingly going after jobs that match their skills and interests, including positions in management. It's a decision that benefits both them and their organization.

The HR Digest provides an extensive list of how women can improve workplaces. They include the attributes of women leaders, which include good communication, empathy, and inclusiveness. Women also are good motivators, mentors, and multitaskers who often have a better commitment to work-life balance than their male counterparts. 

Other studies have demonstrated the advantages of placing women in leadership roles. Forbes recently did a roundup of studies into the issue, with some remarkable findings. For example, research showed that companies with women in at least 30% of leadership positions were 12 times more likely to rank among the top 20% of companies ranked by financial performance. 

In addition, a study from the Leadership Circle focused on the differences between male and female leaders. Among their findings: women leaders tend to work from a more creative than reactive orientation than men. Women also perform better than men in areas such as "building caring connections, mentoring and developing others, and showing concern for the community."

Women also play a key part as role models and catalysts for change. By dismantling gender stereotypes, they clear the path to a more equitable workplace. They advocate for gender equality, equal pay, and work-life balance, driving organizational and societal transformation. Equally as important, the presence of women in leadership inspires and empowers other women, encouraging them to pursue their ambitions and overcome societal barriers.

Skills of Successful Women Leaders
In the online Women in Leadership certificate program through Emory Continuing Education, professionals focus on developing expertise in five key leadership areas - innovation, cultural awareness, engagement, resilience, and self-advocacy. 

These skills are universal in nature. They can prove critical no matter where a woman works, from a management position in private business to a leadership role at a nonprofit or government agency. They also support women who aspire to become entrepreneurs.

Innovation

Innovation empowers women to break traditional barriers, challenge the status quo, and drive change in an organization. It encourages them to think creatively, take risks, and explore new possibilities. An innovation-focused approach allows them to overcome gender-based biases and stereotypes that hinder progress. Women grow these skills by learning how to practice innovation strategies, learn the best practices in innovation, and develop the ability to envision an ideal culture of innovation.

The Leadership Circle report found that one of the benefits for companies that employ women leaders is that they generate more creative and profitable solutions to business challenges and implement innovations faster.

Cultural Awareness

Women inherently understand the need for empathy and understanding for people of different cultures and genders, having likely faced their own challenges in striving to close the gender gap. Through cultural awareness, women can promote inclusivity, improve communication across a diverse workforce, better resolve conflicts, and create a more global perspective. They also can better understand the impact of culture on both the marketplace and workplace. 

The HR Digest report noted that women are uniquely suited for creating innovation across cultures: "As a gender that has faced inequality, women lead with inclusiveness."

Engagement

Engagement applies both to internal team members, as well as clients and customers (especially for women leaders who become entrepreneurs). In both areas, engagement builds trust and loyalty. When women leaders encourage engagement, they create an environment where team members feel valued, empowered, and motivated. They involve them in decision-making and recognize their contributions. The same is true for involving consumers in product and service development, using their feedback to make both better.
Women leaders learn to excel in this critical area by developing expertise in the best practice tools and techniques that will increase engagement. 

Resilience

Resilience and determination are important in all phases of life, but perhaps none more so than leadership. It's a trait of paramount importance for women leaders, equipping them with the ability to navigate challenges, bounce back from setbacks, and thrive in the face of adversity. Women advance in this area by learning the qualities, attributes, and skills that make resilient leaders. 

LinkedIn lists determination as one of the essential skills for women leaders, calling it a skill that is "crucial for overcoming setbacks, keeping up with a demanding pace and maintaining confidence in times of uncertainty or emotional turbulence."

Self-Advocacy

Even as women excel in many areas of management - including outperforming men in key metrics - they still are far more likely to lack confidence in themselves. The Leadership Circle study found that women leaders "underestimate their skills and influence to a greater extent than male leaders."

For women in leadership, it's key to learn the best approaches to self-advocacy, including understanding their own strengths, values, and interests. Only then can women articulate these personal attributes in a way that helps them get more control over their career.

Learn more about the Emory Women in Leadership Certificate program.