Main content
Project Management Team Leadership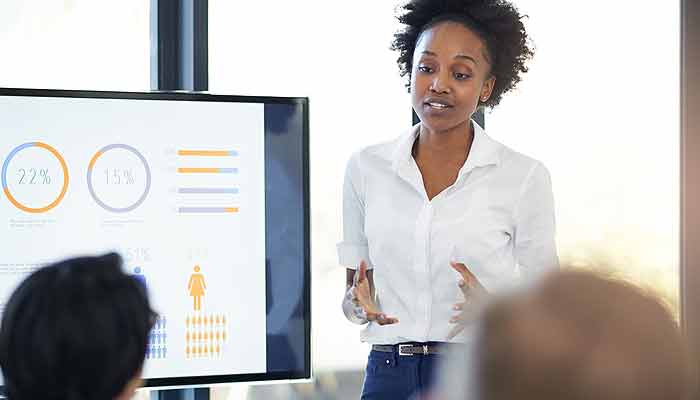 Learn the roles and responsibilities of the project management team leader
The vast majority of project work in today's organizations is done in a team setting. In this environment, project management team leaders have a tremendous responsibility and opportunity to develop and exhibit leadership skills. This self-paced course first discusses the roles and responsibilities of the project management team leader, in particular, their responsibility with regard to project stakeholders. Next, the course discusses how project management team leaders can build a positive team environment through effective communication, team building activities, and reflective listening. Lastly, the course covers problem-solving within the team.
Project management team leaders must be effective in identifying and resolving team problems in order for the project to succeed. To do this, team leaders must have an understanding of the team dynamic for decision-making and must be able to manage conflict among personality differences and barriers. This course contains eight comprehensive module quizzes and a 70-question final assessment spanning IT project management areas of knowledge.
This course grants 18 PDUs (1.8 CEUS) for successful completion. Students have 180 days from the day they are granted access to complete this course.
Please note: Access to this course will be granted as soon as possible but may take up to 1 business day
Learner Outcomes
After this class, you will be able to:
Define a team and identify six common types of teams
Explain Bruce Tuckman's model of group development
Describe how the project life cycle is relevant to team issues
List the three sources of power for project management team leaders
Describe ways to manage stakeholder expectations
Explain different types of team building activities
Define reflective listening
Identify the challenges of virtual teams and how they relate to the project management team leader's roles
Compare and contrast voting and consensus as methods for decision-making
More effectively identify and resolve team problems
Explain the different characteristics of effective and open team communication
Identify the best practices for using e-mail and telephone among team members
Identify several common team problems and apply methods for resolving these issues
Course Sections
| Type | Date | Time | Location |
| --- | --- | --- | --- |
| Online (Self-paced) | Enroll Any Time | N/A | Online |
Project Management Team Leadership Course Information
Course Fee(s)
Tuition non-credit - $415.00