Main content
Lean Six Sigma Yellow Belt Certificate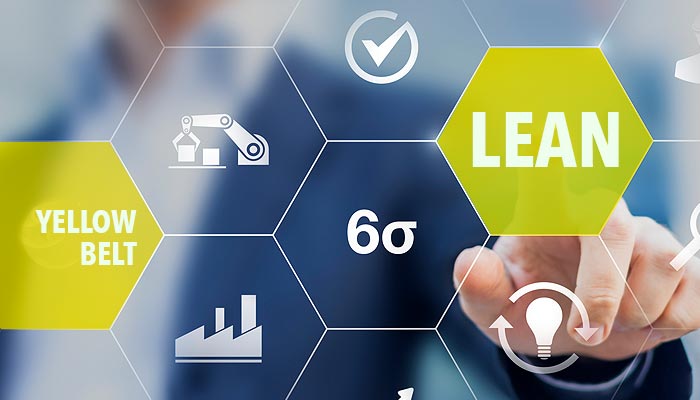 Learn the Fundamentals of Lean Six Sigma with a Certificate in Lean Six Sigma Yellow Belt
Explore the foundational elements of Lean and Six Sigma methodology and gain an understanding that can help you interact with Lean Six Sigma teams throughout your organization.
Certificate Updates - Coming Soon
We are currently transitioning this certificate to a self-paced format and it will be available soon. Sign up for updates and we'll alert you when registration re-opens.
Audience
The Yellow Belt program is designed for entry- and mid-level professionals with or without management experience who want to learn or sharpen their process improvement skills, as well as senior leadership who would benefit from a high level overview to champion process improvements at their organization. Yellow Belt training provides professionals with a high-level overview of Lean and Six Sigma methodologies that can help them contribute to process improvement projects and apply basic strategies in their day-to-day tasks.
Program Objectives
Upon your successful completion of the Lean Six Sigma Yellow Belt course, you will be able to:
Recognize common Lean and Six Sigma terminology, tools, and concepts

Define the DMAIC (define, measure, analyze, improve, control) approach to process improvement

Identify and support potential Lean Six Sigma project opportunities consistent with organizational needs

Speak the language of Lean Six Sigma and participate in discussions about quality improvement initiatives
What You Will Learn
Learn fundamental concepts of Lean and Six Sigma methodology to support process improvement projects in your organization. 
What is Lean Six Sigma? – Learn the history of Lean Six Sigma, roles and responsibilities of Lean Six Sigma practitioners, and common tools of the methodology.

DMAIC – Learn to identify the five phases of DMAIC (define, measure, analyze, improve, control) and the tools and concepts that apply to each phase.  

What is Lean? – Understand the five principles of Lean methodology and how its tools focus on creating value and eliminating wasteful activities.

Additional Lean Topics – Learn additional Lean concepts such as Poka-Yoke and Kaizen events, as well as the critical success factors for process improvement projects.
Certificate Requirements
Coming soon - sign up for updates.
Prerequisites
There are no prerequisites for this program.
Learning Module Summary
Lean Six Sigma


Lean Six Sigma Overview and Six Sigma History
Lean History and Lean Six Sigma Benefits
Lean Six Sigma Roles and Responsibilities
Voice of the Customer
What is value?
What is process improvement?
Definition of quality
Understanding variation
The 6 M's
Bell Curve
Measures of central tendency
Measures of dispersion
Histograms


DMAIC

The five phases and 15 tollgates
Project Charters
Process Maps
Baseline Measurement
Root Cause Analysis
Pareto charts
Implementing improvements 
Team Dynamics
Lean

Lean and efficiency
Waste walks
Value stream mapping
Kanban
Quick changeovers
Spaghetti diagrams
One piece flow


Additional Lean Topics

5S principles
Standard work
Mistake proofing
Kaizen events
Lean Six Sigma
Lean Six Sigma teams and roles