Main content
Lean Six Sigma Green Belt for Healthcare Certificate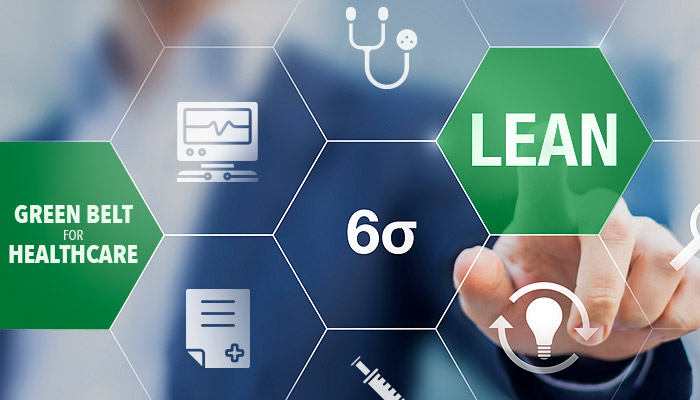 Reduce Process Errors and Improve the Quality of Patient Care with a Certificate in Lean Six Sigma Green Belt for Healthcare
What would your healthcare organization look like if medical errors were reduced by 90%, turnaround times for laboratory results increased by 75%, or if patient wait times for surgical procedures were shortened from months to days? How would your work culture change if the average length of patient stay decreased by 60%, or if hospital readmission rates declined by 40%?
Throughout the 100% online Lean Six Sigma Green Belt for Healthcare Certificate through Emory Continuing Education (ECE), you'll watch engaging video lectures and complete assignments designed to help you make your operations safer, more reliable, more efficient and less error prone. During the 7-week course, you'll explore how the data-driven tools and techniques of Lean Six Sigma can lead to increased cost savings, better bottom-line results, and improved patient satisfaction. Included in the course are seven (7) 90-minute live sessions with your instructor, who is an expert in healthcare Lean Six Sigma and can help answer any questions about the course material.
Program Badge
Feature your skills in Lean Six Sigma through an official digital badge from Emory. These are issued at program completion and can be displayed in your online channels like Linkedin.
Audience
When healthcare organizations implement Lean Six Sigma effectively, service quality and patient safety outcomes are impacted immediately, and work processes become more efficient and streamlined.
If you are interested in learning the essentials of Lean Six Sigma to reduce wasteful spending and process inefficiencies and/or aspire to implement meaningful change in a healthcare role, advancing your education through the Lean Six Sigma Green Belt for Healthcare Certificate is a good first step.
Successfully completing the Lean Six Sigma Green Belt for Healthcare Certificate is required to be eligible for Emory's Lean Six Sigma Black Belt Certificate.
Program Objectives
Upon your successful completion of the Green Belt for Healthcare Certificate, you will be able to:
Identify and charter potential Lean Six Sigma projects consistent with healthcare organizational needs

Execute a Lean Six Sigma Green Belt healthcare project through all five DMAIC (define, measure, analyze, improve, control) phases

Assess appropriate Lean Six Sigma tools during the execution of a Green Belt healthcare project, and apply the right tool at the right time

Explain how healthcare operations can use Minitab to analyze data and to verify and validate root cause and associated solutions

Demonstrate the knowledge required to successfully pass the Lean Six Sigma Green Belt certification examination offered online through ECE at no additional cost
What You Will Learn
Learn the core functions of a Lean Six Sigma Green Belt practitioner and how various process improvement tools and concepts apply to healthcare.
The 5 phases of DMAIC methodology
Identifying a Lean Six Sigma healthcare project opportunity
Finding the root cause of a problem
Hypothesis testing
Selecting the best solutions
Sustainability
Certificate Requirements
This 7-week certificate includes seven (7) live, instructor-led virtual classroom sessions. Attendance in all seven (7) live online sessions is highly encouraged. Students should expect to complete approximately 10 hours of self-paced work each week in addition to the seven (7) 90-minute live sessions. Students will have 12 total weeks of program access.
To receive the certificate, students must:
Successfully complete all online course materials, quizzes, and assignments

Earn a passing score of 70% or higher on the certification exam
Prerequisites
There are no prerequisites for this program.
Course Content Summary
Week 1. Lean Six Sigma Introduction

Lean Six Sigma Overview and Six Sigma History
Lean History and Lean Six Sigma Benefits
Lean Six Sigma Roles and Responsibilities
Project Selection and Planning
Management and Planning Tools

Week 2. Define Phase

DMAIC Process Refresh
Define Phase Overview
Obtaining the VOB
Obtaining the VOC, Part 1
Obtaining the VOC, Part 2
Obtaining the VOP
Storyboards and Define Phase Gate Review
Team Dynamics

Week 3. Measure Phase

Data Fundamentals
Process Variation and Descriptive Statistics
Introduction to Minitab
Data Collection and Sampling
Measurement Systems Analysis
Process Capability

Week 4. Analyze Phase

Exploratory Data Analysis
Identifying Root Cause
Hypothesis Testing
Correlation and Regression

Week 5. Improve Phase

Improvement Approaches
Selecting the Best Solutions
Risk Identification and Mitigation
Solution Deployment

Week 6. Control Phase

Control Phase Overview
Control Charts
Sustaining the Gains
Standardized Work and Visual Controls
Project Handover and Closure
Certificate overview
Duration
7 weeks 
Cost
$2,695
Time commitment
60 hours