Main content
Former teacher finds new career path with Emory Digital Marketing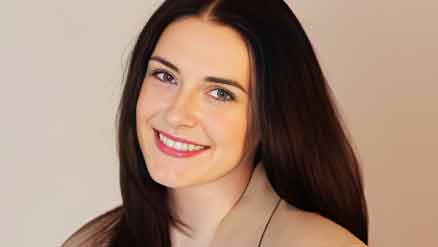 Inspired by a high school music director, Caroline Renner grew up loving chorus and theater. She studied music education at the University of South Carolina and went on to serve as a middle school chorus teacher for six years. 
When she decided it was time for a change, marketing seemed like a natural fit. As a chorus teacher, "I would advertise for my program a lot," she said. "We do musical theater productions, concerts, and I was creating advertisements and marketing so that people would want to join and the program could grow." 
 
Thanks to ECE's Digital Marketing program, she now leveraged that experience to embark on a new career trajectory. 
 
Caroline researched a variety of programs and was drawn to Emory's offering in part because of the convenience factor. The hybrid class met just one evening a week, with students pursuing their studies on their own time. 
 
"Emory was really attractive to me because I knew that I would be able to fit it into my already busy schedule, and still be able to complete the course and get something out of it," she said. "On Tuesday nights we would have a Zoom meeting for an hour or so, and then the rest of the work was self-paced. I was able to fit it in my schedule whenever I had a break, and I didn't feel the pressure of constant deadlines." 
 
Instructor Mary Zimnik offered added flexibility, ensuring Caroline could manage the courseload while still meeting her other obligations. In fact, Zimnik played a key role in supporting Caroline's success in the program. "She really does a great job of making personal connections," Caroline said. 
 
"She was always on the Zoom call early and it was honestly one of my favorite parts — to get on the calls early so that I could chit-chat with her. In only nine weeks," she said. "I felt like I really connected with her, and then she was helpful to me when I was looking for jobs. She's very energetic and spunky, just a really awesome person to learn from." 
 
A booming field

Caroline timed her career transition well. The global market for Digital Marketing services is expected to grow from an estimated $531 billion in 2022 to $1.5 trillion by 2030. That will translate into job opportunities: LinkedIn for example ranks Digital Marketing Specialist as among the top 10 most in-demand jobs, with 860,000 job openings. 
To help learners prepare to meet that need, the Emory program touches on a range of important topics. Students look at how storytelling is key to branding, and investigate the building blocks of multichannel campaigns. The course explores the role of inbound marketing, competitive analysis, content marketing, and "Always-on" or "Agile" marketing. 
 
"We learned about creating a marketing brief and a marketing plan. We learned about content creation, and about how to target a specific audience," Caroline said. "We covered a whole lot of ground, and you could always decide to do a deeper dive in a particular area if you wanted to." 
 
Taken together, the various topics helped Caroline to understand what it takes to succeed in Digital Marketing today. "It requires trust from the brand, feeling authenticity from the marketing side," she said. 
 
Knowing that, she's begun to look at marketing through a new lens. "I'm noticing that there are companies that I do really feel a connection to," she said. "I feel that authenticity from them, and those are the companies that I'm more likely to buy from." 
 
She's already putting that understanding to work, in her new role as program coordinator at Emory's Donna and Marvin Schwartz Center for Performing Arts. Given her previous experience, it's a natural fit. 
 
"When I started looking at jobs, I knew I would be a better marketing agent if I was doing something that I knew a lot about, or was really passionate about," she said. That drew her to the performing arts, "and when I saw there was an opening at the Schwartz Center, I was really excited." 
 
Today she's happy to be extending her wings beyond the classroom, while still being engaged with both the educational community and the performing arts. In short, the Emory Digital Marketing program got her exactly where she wanted to be. 
 

Learn more about the Digital Marketing certificate program.
Emory Continuing Education is a division of Emory Academic Innovation.