Main content
Emory Graphic Design Offers Rewarding Career Options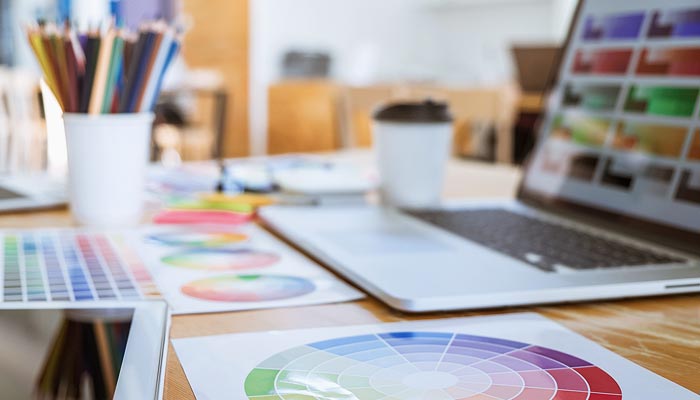 At a time when people are looking for more engaging and fulfilling forms of work, Emory's Graphic Design Certificate Program offers a way forward.

"There are people who want to do something creative. Maybe it's an accountant who doesn't just want to crunch numbers, or someone in the office who has done a little design work in support of the marketing team and is looking to expand those skills. No matter the professional industry or personal project, there's a need to use tools like Canva and PowerPoint to create presentations, birthday invitations, or an attractive sign for a bake sale. The skills students learn in this program are very transferrable," said Christopher Brown. "

As founder and creative director of The Focus Group Movement, a creative consulting firm specializing in visual communication, Brown has broad and deep experience in the career paths open to individuals interested in visual communication. He brings those opportunities to life as lead instructor for Emory's Graphic Design Certificate Program.

"The way the workplace is changing these days, a lot of people have been taking on new roles," he said. "For many people, that includes fulfilling a lot of the design needs within their organization, and now they're looking to build on those skills."

After a couple of years of working from home, "people are looking at their job from a different perspective," Brown said. They may see graphic design as a way to bring together their professional selves and their creative selves.
 
And graphic design itself is evolving. While not a new profession, the rise of digital media is reshaping the way graphic designers work and the tools they use, providing the kinds of challenges that many find exciting and connected to the digital media they already enjoy.

There's a healthy market for graphic design talent: The U.S. Bureau of Labor Statistics predicts there will be 7,300 new graphic design jobs in the coming years, with a median salary of over $50,000 a year.

Students in the certificate program may be new to working in a design role, or they may be thinking about switching to a design career. The program appeals to both self-taught designers who are finding their own way, as well as seasoned designers who may need a refresher or an introduction to emerging tools, techniques, and technologies.

In the certificate program, students learn both the foundations of graphic design, and the basic technical skills needed to execute on their vision.

The foundational work explores the role of the graphic designer, the creative thinking and problem-solving strategies that help to drive effective visual communications both in traditional print format and new digital media.

Graphic design is about making things look good, but its true impact goes deeper. Done right, graphic design is a means of influencing thought and action. Color theory, composition, typography: All these artistic decisions come together to create cohesive and meaningful expression.

"In visual communication we have to know our audience," Brown said. "You're creating imagery, whether that's typography or photography: You're combining all those things as a form of communication and understanding the audience's frame of reference is crucial to making that communication effective."

The coursework covers all the major steps in the creative process — from brainstorming, through R&D, to project budgeting and timelines. It touches on every stage of the journey for designers looking to turn their ideas into reality.

Toward effective design

Organizations put a premium on quality design because they recognize the power of the non-verbal to influence people's decisions. "They understand that in a highly visual society, people need symbols, they need icons, they need color," Brown said. All those things influence what we buy, how we vote, how we organize ourselves as a society.

All this has an impact that goes beyond mere consumerism. Effective design "can influence individual and group behavior, political policy, and even society," according to the American Institute of Graphic Arts. In the foundations course, students will learn about how those dynamics work, and about the role of the designer in shaping choices across the social spectrum.

The certificate program also delves into technical details — the "how to" that is key to making these ideas actionable.

Students will learn how to use Adobe Photoshop, including retouching images, working with layers, styles, and filters, and enhancing images using masks and channels. They'll get familiar with Adobe Illustrator, the leading tool for creating logos, maps, diagrams, vector illustrations, and more. And they'll work with Adobe InDesign, a tool for expanding the power of desktop publishing.

"Those courses are included in the certificate, which means students can walk away with the technical skill to turn theory into practice," Brown said.
Emory Continuing Education is a division of Emory Academic Innovation.