Main content
Emory Event Planning: Opportunity in Innovation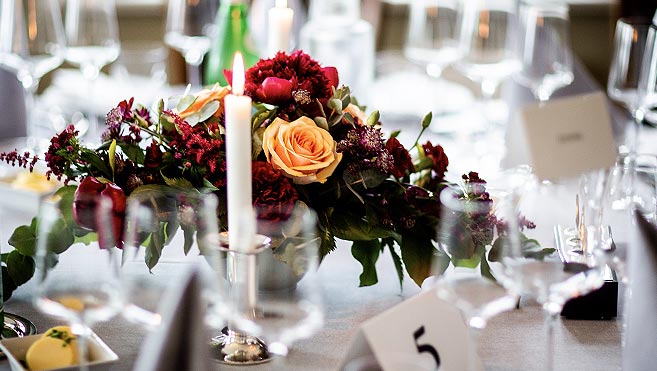 While Covid disrupted any number of commercial activities, event planning professionals in particular were among the hardest hit by the pandemic. With mass gatherings on hold, the live-event sector suffered some $30 billion in economic losses during the shutdown, according to industry reports.
Now event planning is poised to come roaring back, as pent-up demand ratchets up the calls for everything from weddings to corporate retreats. With a series of continuing education courses, Emory University aims to help professionals make the most of this opportunity.
"This is an amazing time in this industry," says Emory instructor Ida Kroell. "There is going to be tremendous demand going forward, and people will need to build up their skill sets in order to be competitive."
A number of new course offerings this year will expand on Emory's already extensive event planning curriculum.
Entrepreneurship
In response to calls from eager self-starters, a new entrepreneurship course will teach the basics to those looking to start up their own event planning businesses. The course will look at personnel issues, financial questions, and other key areas of interest to those seeking to take their event planning skills to the next level.
"If you have a creative mindset about event planning, this course will teach you what you need to know to get a business off the ground," says Kroell, who is also co-owner and director of events and operations at Georgia Palms & Gardens. "There are a lot of entrepreneurs in Atlanta who are ready to be a part of the coming boom in this industry."
Virtual events
Even as the pandemic recedes, corporations remain intrigued by the cost-savings and efficiency they have discovered in virtual events. In fact, 7 out of 10 professionals surveyed by the Professional Convention Management Association say they expect virtual events to continue alongside in-person gatherings.
Event planners need formal training to bolster their skills, in order to make the most of this ongoing evolution. "If you can demonstrate to a client that you can do both in-person and virtual, that is a big competitive edge," Kroell says. "It's going to a be a real win-win in this environment."
Social events
While the Emory curriculum has focused largely on corporate event planning in the past, this year will see the addition of coursework in support of those who focus on planning social events.
"That requires a slightly different set of skills," Kroell says. "Some things are constant: Logistics, decor design, food and beverage, that's much the same on both on a corporate and a social level. But other things change when you are doing a wedding or a birthday party or a bar mitzvah."
Social events have a different dynamic and different goals. They need to be structured differently, often with a great deal of attention devoted to particular customs, traditions and social conventions. The new coursework is designed to help event planners become more fluent in managing the subtle dynamics that differentiate a social gathering from a more corporate occasion.
A new era
In the wake of COVID-19, a new era is dawning in the world of event planning.

The industry has long been dominated by amateurs who turned pro: Individuals who have parlayed their marketing experience and party-planning talents into a paying job. Going forward, career credentials – including certificate education from recognized institutions and other academic credentials – will be needed to differentiate the true professionals in this rapidly changing field.

"Maybe you are just good at planning events," Kroell says. "That's a start, but if you really want to make a career of this, you need a deeper level of knowledge: Things like how to make a good budget, how to deal with speakers."

With multiple academic credentials in event planning, Kroell can attest to the career value of formal training, especially when it is delivered by high-caliber instructors offering hands-on experiences and rigorous course materials.

"You need a certain level of training to do the big conferences with million-dollar budgets and sponsors and so on," she says. "If you have a corporation – or even a bride, for that matter – who is looking at you alongside bids from 10 others event planners, the credentials definitely make a difference."

Emory Continuing Education (ECE) offers a certificate program and multiple courses in Event Planning. ECE is a division of Emory Academic Innovation.