Main content
Cybersecurity Partnership Program Extends Emory Learning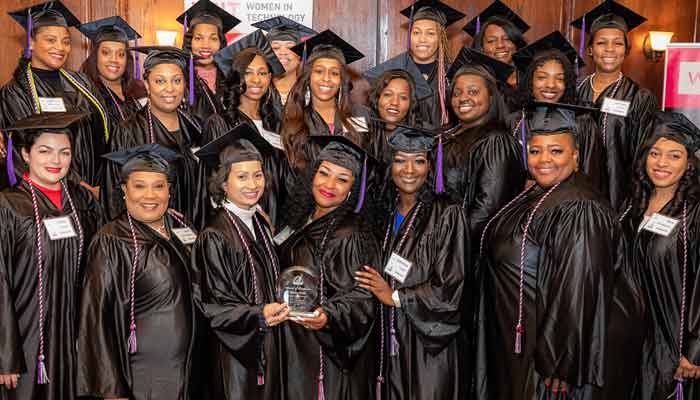 In a partnership that helps break down barriers, Emory Continuing Education (ECE) and Atlanta-based Women In Technology (WIT) are equipping Georgians with in-demand skills and knowledge that open the doors to good-paying, high-tech jobs at leading companies including Equifax, Cox Automotive, Global Payments, Cisco, and Rollins.
Earning Emory's 12-week Fundamentals of Cybersecurity and Information Security certificate is a core component for participants in WIT's "Single Mothers Program". The third cohort of learners began the life-changing course on April 2.
There are more than 400,000 open cyber jobs in the U.S., with entry level positions paying $50,000 per year and up. IT security roles average $117,000 annually. WIT's program focuses on empowering women with the latest technical job skills and aligning them with this career path to take advantage of this burgeoning job market.
The cybersecurity certificate program tuition ranges from free to $500 depending on the qualifying participant. With rigorous eligibility requirements, the program demands a significant time commitment. It means essentially giving up their Saturdays for three straight months, and 100 percent attendance is required.
"Emory Continuing Education is thrilled with the opportunity to provide training in partnership with the WIT program to help its students move out of low-wage jobs and into better paying and rewarding technology-based careers," said Paul Welty, Ph.D., Vice Provost for Academic Innovation, Interim Director, Emory Continuing Education. "This program is a prime example of fulfilling ECE's mission of enriching the lives of students and enhancing their careers. It is an honor to be a part of empowering these smart, resilient and resolute women. This certificate program advances our commitment to extend the learning mission of Emory University beyond the traditional campus."
In addition to learning the fundamentals of cyber and information security, the participants are offered free wrap-around services provided by WIT. These include providing daycare, transportation, meals during class, professional development, mentoring, and job placement support.
As of Spring 2022, there have been two graduating classes so far with all 40 of the graduates landing new jobs with salaries between $50,000 and $75,000. Of the inaugural graduating class of 20, one year later 18 are still in those jobs and two have been promoted. Meanwhile, applications for the fall semester are being accepted through June 5.
Emory Continuing Education is a division of Emory Academic Innovation.