Main content
The Rise and Resilience of Remote Work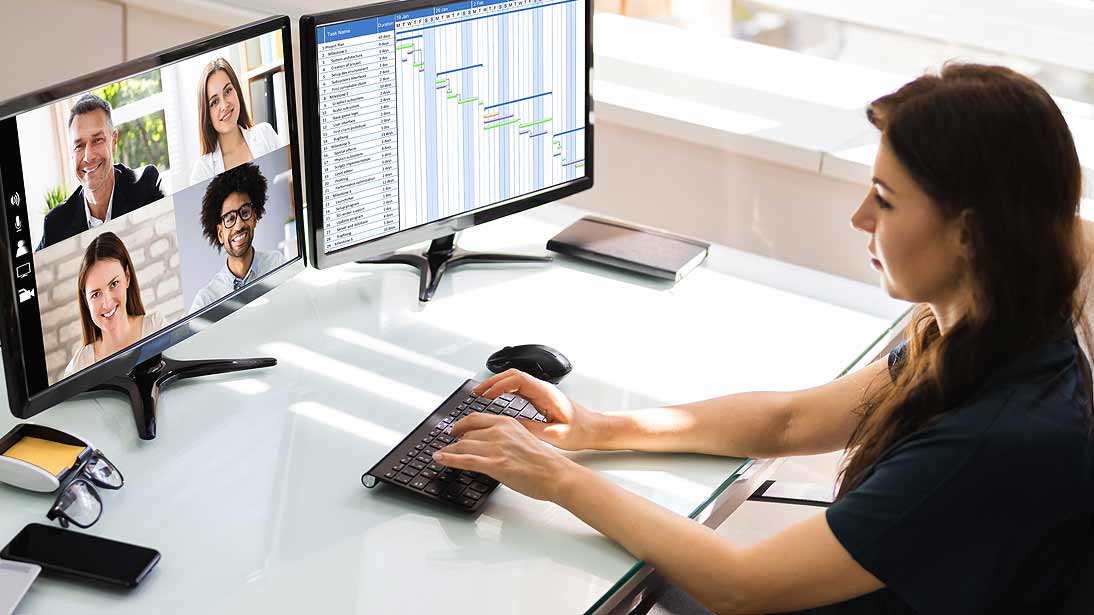 A look at today's remote work, its growth and potential staying power in the post-COVID economy
With restaurants open and roadways filled with traffic, the US is well on its way to a post-pandemic recovery.
Yet with this shift comes two critical questions that ask how we'll return to work and how much of an office life we'll see.
The COVID-19 pandemic put thousands of employees in a work-from-home environment. Organizations and enterprises have had to restructure their workflows, adjust communication methods, and adapt to the needs of a dispersed and decentralized workforce. The process was not simple, and it's likely the transition out of the pandemic won't be either.
 
At present, there is no uniform thinking on remote work. In fact, a growing body of research from various sources shows support for remote work is highly dependent on an industry, employer, productivity level, company culture, and employee preferences. There are pros and cons for every dynamic. But now, with New York announcing an end to most mask requirements, California reopening in June, and most states already open, pressure mounts to decide what will become of work going forward.
The change that's happening
Even with so many pieces in play, what is abundantly clear is the support from employees. Most employees are strongly in favor of remote work or a hybrid model that allows a combination of remote and on-site work. In a Harris Poll that surveyed 2,063 adults, 75 percent said they would prefer to work at home full-time or adopt a hybrid approach. 
The positive feedback is likely driven by the flexibility and creature comforts found in the work-from-home lifestyle. There is no dress code, no commute in traffic, flexibility for parents with children, the focus that can only be found in a quiet space, and limits to micromanagement. 
Outside quality-of-life benefits, remote work has not diminished productivity for office professionals. A report from the Conference Board research group shows that these types of businesses have maintained or increased productivity during the pandemic. What's more, that same survey notes that 77 percent of its respondents expected an increase in the number of employees that would work primarily from home (at least three days per week) after the pandemic.
In a comprehensive investigation, industry analysts at the research firm McKinsey & Company released a study indicating more than 20 percent of all jobs—both domestic and internationally—could work primarily from home three or more days per week. The analysis, dubbed "What's next for remote work," evaluated more than 800 jobs, 2,000 tasks, and nine countries.
While remote work would not be suited to every industry, McKinsey said it's incredibly likely to have a dramatic influence on how the world operates. 
"More than 20 percent of the workforce could work remotely three to five days a week as effectively as they could if working from an office," The report stated. "If remote work took hold at that level, that would mean three to four times as many people working from home than before the pandemic and would have a profound impact on urban economies, transportation, and consumer spending, among other things."
That impact on urban economies is already validating the shift. And nowhere is this more visible than in the commercial real-estate sector. San Francisco and New York have seen a massive exodus in commuters, emptying previously congested offices and streets.  
Further, Moody's Analytics projects that the national office vacancy rate will jump from 16.8 percent before the pandemic in December 2019 to 19.4 percent this year and 20.2 percent by the end of 2022. In another survey of 248 US chief operating officers, McKinsey learned one-third had definite plans to reduce office space when leases ended.
Staying power
Though intriguing, the notion a majority of Americans will be working at home after the pandemic is unlikely. After all, a good portion of the US workforce never stopped working at their various locations. 
There is a whole set of industries that simply can't work from home. These jobs are what might be expected, the first responders, the grocers, construction workers, airline pilots, and so many more. For these occupations, which represent a majority of the workforce, remote work is just a nonstarter.
In fact, if there were one takeaway from McKinsey's workforce analysis, it would be that on-site jobs are here to stay.
"More than half the workforce, however, has little or no opportunity for remote work," McKinsey stated, adding that 61 percent of the U.S. workforce can only "work no more than a few hours a week remotely or not at all."
Researchers pointed to the obvious reasons inherent in manual labor, such as providing a hospital patient an x-ray, providing delivery service, or operating heavy machinery. 
In other instances, the roadblock isn't accessibility but productivity. Some jobs experienced precipitous productivity drops when they went remote. 
Ask a public school teacher if they prefer virtual or in-classroom learning, and their opposition to remote work couldn't be more emphatic. During the pandemic, school districts throughout the US experienced a spike in course failures, because, unlike adults, the younger students weren't prepared for online learning. Challenging living environments, self-discipline, focus, and access to technology were just some of the inhibiting factors.
Company leadership is another impediment. Despite the popularity of optional office spaces, behind closed doors, many leaders want employees at their desks. The Harris Poll research reported that 65 percent of employers surveyed wanted employees to return full-time within six months to a year. 

Employee oversight is one reason, but another is company culture. Many employers feel company culture can't be conveyed if workers aren't at their desks. A 2020 survey of executives from PWC showed 68 percent of executives thought employees should be inside an office at least three days a week to foster company culture.
The hybrid forecast
Of course, between the two types of working environments, the most likely option might be found in a middle path, the hybrid approach that mixes up a balanced cocktail of home and office.
Based on the overwhelming employee demand for remote work, it's unlikely for employers to put the "genie back in the bottle"—especially if the company wants to be attractive to top talent in a competitive market. After the pandemic's surge of remote work, the quality-of-life benefits are too hard to ignore and adoption too pervasive.
In its research, PWC said companies that adopt a hybrid work model will be fueled by a desire for cost savings in commercial real estate and a desire to support employee preferences. 
In PWC's survey data of companies, 61 percent intended to consolidate office space in at least one premier business district location, 58 percent planned to open satellite offices in the suburbs and less dense areas, while 51 percent said they were planning to consolidate office space outside of major cities. 
In all PWC's feedback, only 12 percent of companies said there would be no changes to their working spaces.
In New York, JPMorgan Chase & Co. is one of the major companies that will be transitioning to a hybrid office. The national bank has more than 20,000 employees in New York City alone (260,000 employees worldwide), and after the pandemic, its leadership describes the traditional office as a bygone relic. 
Speaking to CNBC, Daniel Pinto, JPMorgan's co-president and chief operating officer, said the company is working on a hybrid model that would allow its staff to rotate into an in-office and out-of-office environment. The move would be tailored for each job, he said, due to the diverse functions. Pinto said he saw the hybrid model as the only realistic move forward after the pandemic.
"Going back to the office with 100 percent of the people 100 percent of the time, I think there is zero chance of that," Pinto said. "As for everyone working from home all the time, there is also zero chance of that.''