Main content
Popular Emory Instructor Inspires Future Creative Writers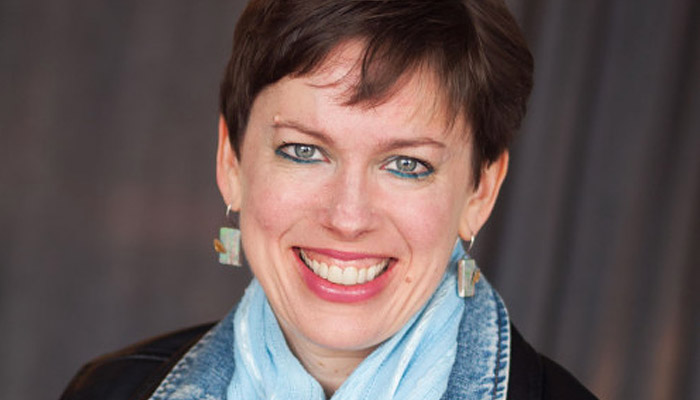 Huina Zheng found her voice through Emory's Creative Writing Certificate program.
Growing up in a Chinese family, where sons are highly valued, "I always had to struggle with feeling that girls would never be good enough," said Zheng, who's also pursuing an online M.A. degree in English. "Reading showed me that the world is diverse and that I did not need to be constrained by the ideas and values of my family. I wanted to write stories to encourage people like me, to give them the strength and hope to hold on." Zheng has two upcoming publications from her writing in the program. 
 
Students come to the program from across the spectrum of interest and experience, said Jennifer Taylor, a professional writer and editor who has been an Emory Creative Writing instructor for two years.  
 
"There's the hobby writer, someone who's always been interested and they have never gotten a chance to try it," she said. "There are people who are thinking about getting an MFA someday and who need a writing portfolio for their applications. There are people who write for PR or marketing firms, and who have always wanted to explore their creative side." 
 
For all these different people, "the creative writing certificate is a first step," Taylor said. "It's a way to get more invested in your writing, to gain that new level of confidence." 
 
It starts by simply sitting down at the keyboard and getting to work. "If you leave it up in your head, then it's just an idea. So, the first thing is just getting it down," Taylor said. 
 
From there, Taylor will drill down into the mechanics of storytelling, the tools and strategies that help to bring those ideas to life. 
 
"Most often, people have the spark of an idea, but they don't know how to formulate a story or essay," she said. "The coursework helps them to find the right structure in order to relate what it is they're trying to say." 
 
Classes delve deep into the craft of writing, exploring technical issues, the mechanics of writing style. "This is about things like voice and pacing," Taylor said. "We look at all the different components of writing, things like how to write conversational dialogue, how to write description." 
 
All that proved helpful to Cary Shackelford, who worked for twenty years in the lighting industry before deciding to focus on his writing full time. He graduated from the Creative Writing Certificate program in 2021, and won Best Manuscript Sample at the Atlanta Writers Conference that year. 
 
"Prior to the program I had done my own learning, picking up bits and pieces here and there. I had started and stopped on several books over the years and I knew that if I was ever going to do this, I would need a more holistic perspective," Shackelford said. 
 
"The program gave me concrete things that I could do, a framework for how to do a first draft, and how to make it better. It helped me to put together all the puzzle pieces and make each piece better. I also met some great people, and the ability to give each other feedback on one another's work was really beneficial," he said. 
 
A former high school English teacher, Michele Brown has taken all of Taylor's classes while pursuing the writing certificate. She's working on a memoir based on being an adopted person who in turn adopted two children herself, and who went on to find her birth family later in life. 
 
"It has given me a framework for how to write, a structure, along with the guidance from someone who really cares about her students. Jennifer has helped me to put to work my desire to write. If Jennifer gave a course on how to be a plumber, I'd take it!" Brown said. 
 
"I get more than just a how-to from her. She really nurtures her students. Beyond just the skills and the feedback, she lets us know what the writing world is like, so we have someplace that we can take what we are leaning," she said. "Since I've started the program, I have joined two writing groups, which enables me to create a writing life for myself. Jennifer helped to create those connections and that sense of community." 
 
In her classes, Taylor draws from a wide range of fiction and nonfiction sources to help students understand how it all works. "I want them to see all the possibilities," she said. 
 
This year she has added a new class to the mix: "Funny Business: Finding Humor." Having studied comedy writing at Second City in Chicago, she said that humor often can be the means to expressing deeper truths. 
 
"I think about essayists like David Sedaris, people who are really heartfelt but also hilarious," she said. "In this class, we are going to have fun injecting humor into writing and exploring how that works. We will learn how to create funny situations that supports our writing interests." 
 
Learn more about the Creative Writing Certificate program at ECE. 
Emory Continuing Education is a division of Emory Academic Innovation.