Main content
The Emory HR Management Certificate Hones Key Skills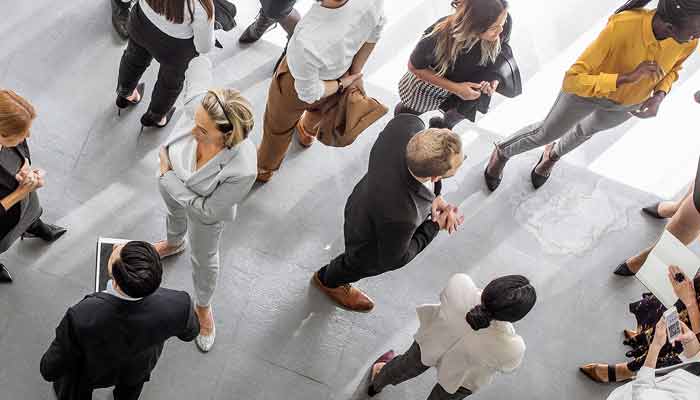 As the world of work becomes increasingly complex, the field of human resources management grows ever more important.
There are over 161,000 jobs in this fast-growing area, according to the U.S. Bureau of Labor Statistics, with an average $121,000 salary. Emory Continuing Education's HR Management Certificate is for those looking to get into the field, as well as for working HR professionals who are looking to expand upon their existing skills.
"We'll give people a taste of all the different aspects of human resources," said instructor Soumaya Khalifa, president of management consulting firm Khalifa Consulting. Designed by the Society for Human Resource Management, the core course's six modules will touch on a wide range of topics, from recruiting to training to benefits and compensation.
In teaching the course, Khalifa encourages students to record their key takeaways. Her experience over the years has shown that learners report a diverse array of practical outcomes.
"One student said that they didn't have an employee handbook in their organization, and they were going to go back and implement that. They had a timeline, they understood the costs, and they had a whole plan for implementation," she said.
HR professionals often are called on to train managers on effective hiring strategies, especially when it comes to giving potential hires a realistic understanding of the job on offer. That's been a key area of interest among course participants in recent years.
"I had one person who was in the trucking business and she jumped out of her seat when we talked about this. The company hired people all the time, and they would leave after maybe two weeks because they did not know what kind of job that they were really getting into," Khalifa said.
Another popular module addresses interviewing techniques. Here again it's the role of HR to support managers in their efforts, and a solid grounding here can be a boon.
"There are things they need to know about how we talk in an interview, how we describe the competencies that are needed for the job," Khalifa said. "And there are rules around this: The job interview must be job-related. There are questions you need to ask, and also questions that are illegal to ask. HR professionals increase their value to the organization when they can help managers navigate all of that."
The coursework also goes deep into training methods — another key responsibility of today's HR professional. 
"How do you develop training that is effective? How do you apply things like adult learning theory? For someone in HR who is developing training, we'll talk about what they have to look for and what they have to include," Khalifa said.
While Khalifa will touch on these and other key themes, she said the class also delivers added value in the form of information shared among the students themselves, many of whom have practical, hands-on experience as HR practitioners.
"They will typically talk about their own experiences, what's happening inside their organizations," she said. "It's an amazing opportunity to hear not only from the instructor but also from your peers in a range of industries and organizations, people who are out there doing this work every day."
For those looking to advance their HR careers, the coursework offers a coveted validation of professional skills and abilities.
"It gives them credentials, both from Emory University and also from SHRM, the Society for Human Resource Management," Khalifa said. "By completing the core course, they have that instant credential, and beyond that it also gives them a sense of security. They know they have the information they need to move forward."
The core course also offers students access to a ready-made cohort of peers to whom they can turn for advice and support. "You build a network of fellow students that you can tap into, once you've gotten to know each other. That has proven to be a valuable resource for a lot of people over the years," she said.
With so much changing in the world of work at this moment — the rise of remote work, and an extraordinarily tight labor market, among other factors — it's incumbent on HR practitioners to ensure their skills are current.
"You need to know the trends in order to get out there and do your job effectively," Khalifa said. "With this course, you'll have the tools you need to drive your career forward."
Visit the ECE Human Resources Management Certificate page for more information about this popular program. Emory Continuing Education is a division of Emory Academic Innovation.