Main content
Digital Skills Certificates equip learners with in-demand skillsets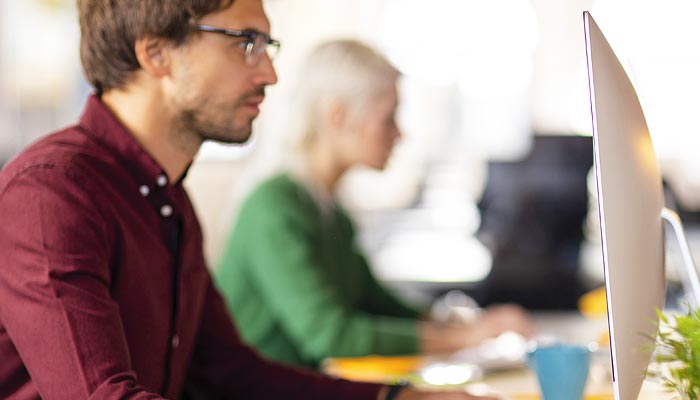 With technology driving corporate growth across virtually every industry, Emory's popular Digital Skills Certificates help prepare individuals for some of the most in-demand jobs.

Delivered fully online with education partner Pathstream, the Digital Skills Certificates include:
For Emory continuing education graduates Paula Asaije and Monica Cabrera, these certificates have opened the door to career advancement and personal fulfillment.
Flexible and supportive
For 10 years, Paula Asaije had worked in customer service as a restaurant manager. Her career took a turn when she noticed more of her regular lunch customers wearing Salesforce gear. She got curious, and began to ask them about the software.
This led to an introduction to a Salesforce instructor who sparked her interest in learning how to use the digital tools.
Interested in developing her CRM skills, she found out about Pathstream through a Salesforce Facebook group and was drawn to the flexibility that the Emory Salesforce Administrator Career Certificate offered: She liked that it was 100% online and self-paced.
As she began to work through the modules, she noticed that any time she had an issue there was support available. "If I had questions or got stuck, the instructor was very responsive and helpful. She was also extremely flexible, understanding when I needed more time to complete a project. This was great," she said.
Flexibility and understanding were important to Paula because she was working full time as a general manager at Chipotle while learning. The resources Paula had access to through Pathstream stood out to her as a timesaver and a tool to help strengthen her skills. 
"The program package gives you many resources and the option to take notes while you learn," she said. "When I initially took the Salesforce practice exam, I failed, but after reviewing my notes, I passed on my second try. Don't forget to take advantage of the resources you have access to."
As Paula was starting her third course, she started working with the Career Services team and their complimentary 1:1 career guidance. She ramped up her job search after she was fully certified and passed the Salesforce exam. A month after the start of her search, Paula landed her first internship thanks to the career services newsletter.
"The program covered everything I needed to master Salesforce. The hands-on projects and quizzes, all of it really helps you understand the material and prepares you for a career in Salesforce," she said.
Starting from scratch
Monica Cabrera is the embodiment of resilience and reinvention. Each time life throws her a curveball, she is quick to take initiative and pave a new path for herself. Before becoming a data analyst, Monica lived in Tokyo, working an assortment of jobs from teaching English to doing makeup for musicians. After a decade abroad, a family emergency prompted her to move back to the United States. 
She quickly realized she would have to start from scratch when it came to her career. At the same time, her stepdad, a customs broker, was interested in venturing out on his own. Together they started their own customs brokerage with her as COO which was going well. However, by February 2020, clients in Europe and China stopped importing and this set off alarms for Monica. 
By March 2020, ports closed amid the spread of COVID-19 and it became clear that her livelihood was in jeopardy again. While part of the country shifted to working from home, she became unemployed. This triggered a need to re-evaluate her circumstances again and come up with a new game plan that guaranteed more job security.
Monica was first exposed to Excel when she used the software to keep track of clients. She performed very basic Excel functions, but quickly discovered that she liked it. In her quest to learn more, she stumbled across Pathstream's 
Tableau Data Analytics certificate program
. Monica was thrilled to learn the program curriculum offered more than just Excel; it covered SQL, Tableau, and deep-dived into data analytics coding.  
Midway through completing the program, Monica shifted gears to focus on the job search by working with Pathstream's career service team. Social platforms that focused on employment such as LinkedIn felt foreign to her after living in Japan for so long; she needed to brush up on her interview skills. With our support she tailored her resume to highlight new data analytics and other transferable skills. She also took advantage of practicing for interviews. 
"I found Career Services to be just as life-altering as the Pathstream program itself. I was able to completely transform what was on my resume and stood out. I got my interviews because of their help. So, my advice to anybody doing this course is if you don't work with a career coach, you're just doing yourself a disservice if you don't."
Monica also realized she had a passion for SQL and chose to narrow down her job search to focus on roles that used it. The hard work paid off; as the program wrapped up, she landed her ideal job as a data analyst working with SQL, her favorite programming language.
"Everything that I learned, I apply it to my job daily such as coding in SQL, running routine reports, or working on ad hoc projects. Even the presentation decks; back when I was enrolled in the certificate program, I thought when am I going to need this? And guess what, it's exactly what I have to do, present my monthly reports to stakeholders in a PowerPoint deck."
Her advice to students: "I went to college and I took a lot of courses, like my art history class. I never used it and I paid a whole lot of money for that. I paid less than a fraction of what college costs and the certificate was incredibly useful and Pathstream really did do what they promised to do: Give me a completely new career."
Learn more about Emory's
Digital Skills Certificates
. These certificates are delivered in partnership with Pathstream.  
Emory Continuing Education is a division of Emory Academic Innovation.