Main content
It's Never Too Late to Start Writing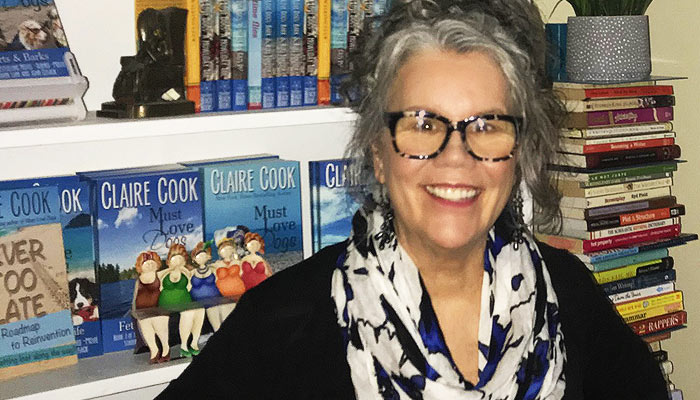 Claire Cook knows what it's like to bring a creative vision to life — how challenging it can be, and how good it feels when the pieces finally fall into place.
"I let fear stand in my way of writing my own first book for much of my life, so I know the pain points well. Finally, just before I turned 45, I wrote my first book in my minivan in the parking lot outside my daughter's swim practice at 5:30 in the morning before I went to work as a teacher," she said.
"So I also know that when you're ready, you can find a way."
Now Cook wants to show others the way. She will be teaching the Emory Continuing Education course The Business of Creative Writing: Navigating Your Next Steps, one of the required courses in the Creative Writing Certificate.
It may have taken her decades to get that first book down on paper, but it was well worth the wait. At 50, she walked the red carpet at the Hollywood premiere of the Warner Bros adaptation of her novel, Must Love Dogs, starring Diane Lane and John Cusack.
She's now the New York Times, USA Today and international bestselling author of 21 books, and her works have been translated into 14 languages. "So I've learned from experience that it's never too late," she said.
Having walked a long hard road to win success, Cook understands both the challenges and the rewards that await the aspiring writer. She is "well aware of what a daunting task it is to write a book and what a rollercoaster getting it published can be," she said.
Having walked the road, she's eager to show others the way. "Because this is the career I almost didn't have, encouraging emerging writers and providing them with the tools they need to survive and thrive is a big part of what I do both in and out of my books," she said.
Cook's premise is simple: "It's Never Too Late to Write That Book." It was true in her own life, and it's a lesson she is hoping others will take to heart, especially as they find themselves yearning to scratch that creative itch. It's an itch she says more people are feeling lately, especially given the way the pandemic has reshaped our daily experiences.
"In researching my latest book, Life Glows On: Reconnecting With Your Creativity to Make the Best of Your Life the Rest of Your Life, person after person told me that even though they have more free time now than they've ever had because of Covid, they seem to be accomplishing a whole lot less these days," she said.
With a little coaching, it's possible to go beyond feeling overwhelmed and to commit to a creative project. "Once people take the leap, they've been able to turn that extra time into a deeper focus than ever before," she said.
While the increased isolation people are experiencing these days "can feel like a negative," she said, "it can also be the perfect opportunity to take on a challenge like writing a book, which is a lifelong dream for so many people."
In her Emory course, the author shares everything she has learned on her own journey that might help aspiring writers in theirs. Drawing from personal experience, she delivers practical information to address virtually every step of the process.
Topics include building your author platform, assessing publishing readiness, understanding current paths to publication, finding a literary agent, writing a query letter, building a support group, and connecting with the larger writing community.
"Whether you have a semi-finished novel that's been tucked away in a drawer for years, or you're wondering what to do with your complete and polished manuscript, or you have a book idea and you're just getting started on the writing part, the class will encourage you, give you actionable advice from the trenches, and help you formulate a plan for your book and your writing career," she said.
Emory Continuing Education is a division of Emory Academic Innovation.