Main content
Business Intelligence Certificate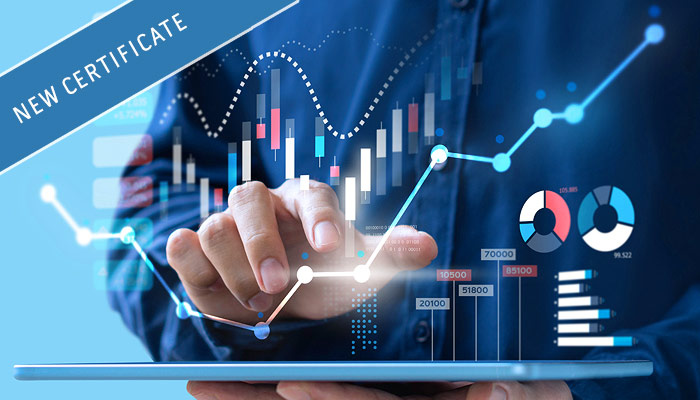 Join the high demand field of data analytics in 11 Saturdays
The global data analytics market is projected to increase to $133 billion by 2026, resulting in high demand for new professionals to enter this growing field. Business intelligence (BI) is a branch of data analytics that supports the process of converting raw data into actionable business and operational insight for improved decision-making and enhanced organizational efficiencies. The field encompasses techniques such as query generation, data mining, data modeling and analysis, creation of dashboards and visualization charts, and production of analytics reports.

This program introduces students to the field of Business Intelligence (BI), with an emphasis on descriptive analytics. Coursework includes training on the use of products such as Advanced Excel, SQL, Microsoft Power BI, and Tableau to collect, extract, mine, analyze, visualize, and present business data. It employs applied training techniques with students forming data analytics teams to solve business problems and identify solutions. It practically applies learned concepts to real-world cases to prepare graduates to enter this thriving field.
The Event Has Ended
This Emory program is offered with special pricing in the New Year, New You Event, with savings valid through Saturday, January 28, 2023, 11:59pm ET. A 20% discount will be applied when using the code NYNY23 at checkout.
Event offer: $3596 – Reg. $4495
Program Badge
Feature your participation in the Emory Business Intelligence program with an official digital badge. These are issued at program completion and can be displayed in your online channels like Linkedin.
The data above is sourced from the U.S. Bureau of Labor Statistics
LEARNING OUTCOMES
After successfully completing this certificate program, students will be able to:
Demonstrate an understanding of the fundamentals of BI, potential applications of BI, and its role in the field of data analytics
Practice data collection, data mining, and data loading by using applicable advanced features of Excel
Apply the basics of SQL, its applicable data commands, basics of database queries, data aggregation, sorting, grouping, and summarization
Apply the fundamentals of data mining, applicable techniques, functionalities, algorithms, and major challenges in the practice of data mining and descriptive data analytics
Practice presentation and visualization techniques and storytelling using Tableau
Define data relevancy, pattern recognition, trend analysis, and relationships among data elements and clusters
Apply learning to real-world business projects
Employ data analytics to gain insight into business operations, solve problems and create solutions for corporate and organizational issues
Produce evidence-based, tactical, and strategic decisions toward organizational viability and competitiveness
Certificate Highlights
Duration
11 Weeks
Cost
$4,495
Time commitment
100 hours
CERTIFICATE REQUIREMENTS
To receive the certificate, students must:
Not miss more than one Saturday
Commit at least 8 hours per week to complete all class assignments before attending the Saturday classes
Achieve a minimum cumulative score of 75% on the projects and exam
Program Modules
Major components of the program include:
Data Collection
Data Preprocessing
Data Storage
Data Queries
Basic Data Mining
Descriptive Data Analytics
Data Visualization
Results Presentation
Audience
The following types of people will benefit from this program:
Students exploring a career shift into the field of business intelligence
New and self-taught data analytics professionals that would like to expand their knowledge
Professionals in any field that would like to increase their knowledge of business intelligence
Professionals that would like to shift to higher paying careers