Main content
Delivering Impactful Training Experiences in the Classroom and Online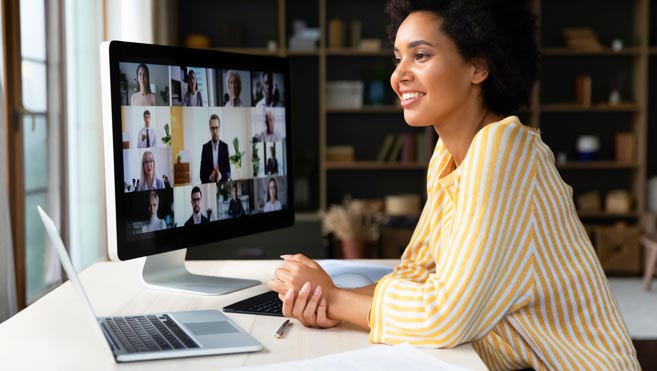 Maximize your participant engagement
Your training outline is fully developed, and the course material is ready for delivery…but how do you maximize participant engagement while properly utilizing best practices for presentations? Join us to explore the methodologies of group learning and classroom dynamics. We will identify practical techniques designed to energize your training and ensure that your messages and material are delivered in a professional, positive manner. We will also work to master the technology that makes online training possible, including detailed instructions on how to deliver a premium interactive experience that commands the same level of excitement as your classroom training.
Book for the Course
Recommended Textbook: Speak Like Churchill, Stand Like Lincoln: 21 Powerful Secrets of History's Greatest Speakers - (Hardcover, paperback or e-Book available)
Participants will need to come to Part II of the class with their computer or tablet (a computer is preferred) and have already set up a free ZOOM Meeting account by going to Zoom/signup.
Course Outline
What will be covered:
Part I
Speak Like Churchill, Stand Like Lincoln – Delivering the Message
Group Learning, Room Dynamics, Managing People and Time
Enhancing Course Content Through Activity Development
Death by PowerPoint and Other Training Dilemmas
Give Them Something to Talk About – Ending with Impact

Part II
Lesson 1. Technology and the Tools of the Trade
Lesson 2. Using ZOOM Meeting – Account Options and the Interface
Lesson 3. Delivering Interactive Content that Engages
Lesson 4. Lights! Camera! Action! - Putting Your Best Face Forward
Lesson 5. The Show Must Go On! – What Happens When Things Go Wrong
Learner Outcomes
After Completing this program, participants will be able to:
Deliver professional, engaging training experiences for both classroom and online learners.
Utilize speaking techniques, body language and presentation design to energize a classroom.
Practice the elements of room dynamics, placement and setup to optimize course delivery.
Transform learning topics into immersive activities to solidify subject matter and message.
Use technology to deliver exceptional online training experiences to keep learners involved.
Course Specifications
Contact Hours
6 hours
Computer/Electronic Device Needed