Main content
New Year New You Promotion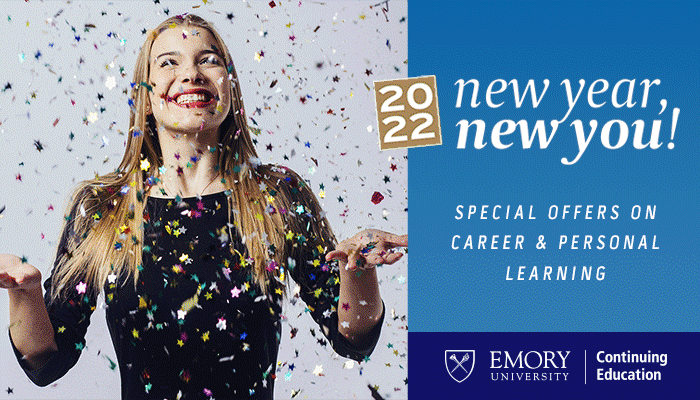 Welcome to a new year of possibilities!
A new year opens the door to new possibilities. It offers a moment to envision your potential, make resolutions, and take action. 2022 offers you the chance to start the new career you've been dreaming of, get new or upgraded skills to improve your career, or find better life balance through creative courses.​
There has never been a better time to expand your possibilities with Emory Continuing Education. Most of our course catalog is 20% off for 4 DAYS ONLY* during our "New Year, New You" event, happening January 18-21, 2022. This includes almost all of our certificate programs, popular topics like Paralegal, Graphic Design, Creative Writing, and our newest program Women in Leadership. Use the code NewYou22 at registration for a 20% discount.
Promo Code is Case-Sensitive
At checkout, you must enter the promo code exactly as shown below. Click the button to copy the promo code to your clipboard.
Get started browsing our certificates and courses by clicking at right or below.