Main content
Biography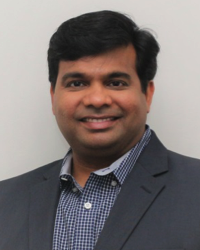 Rajkumar Bondugula has earned an M.S. and a Ph.D. from University of Missouri-Columbia, both in Computer Science with a specialization in Machine Learning. He has co-authored twenty peer-reviewed scientific publications, a book titled "Application of Fuzzy Logic In Bioinformatics", and his work has been cited over 250 times. Over the last decade, he has professionally used machine learning for computer vision, computational biology, e-commerce, social intelligence, and fintech. In addition, he is also an expert in natural language processing and distributed computing.
He is currently a Principal Data Scientist and Senior Director at Equifax and is responsible for:

Leading a team of Data Scientists and Big Data Engineers to develop innovative solutions to hard problems that lead to organizational growth in 3-5 years.
Enabling insight generation from data by architecting and leading projects that standardize structured data and structure unstructured data.
Providing thought leadership to the organization for making investments in next generation big data analytical skills, technologies and processes.
Before Equifax, he did a brief stint at a startup called Shoutlet, established data science practice at Home Depot, lead a machine learning team at Sears and was a scientist at Department of Defense.